It's time to watch the So You Think You Can Dance Top 3 become the Top 2! After last week's shocking elimination saw Beau, Carter and Ralyn go, we're left with Alexis, Essence and Keaton and only two will stay standing after tonight's performances. Each contestant will perform three times, including a routine featuring a returning All-Star: Kiki Nyemchek, Audrey Case or Robert Green.
Alexis and Keaton – Bollywood
Alexis and Keaton both comment on how they struggled to perfect their Bollywood number.
Not a favorite for me. Something felt off watching Alexis do this style, but Keaton has really proven that he can master any style.
JoJo says she saw a different side of both of them and loved it. tWitch says they did a wonderful job honoring the culture. Leah says it says a lot about their stamina to do this dance.
Alexis and Essence – Contemporary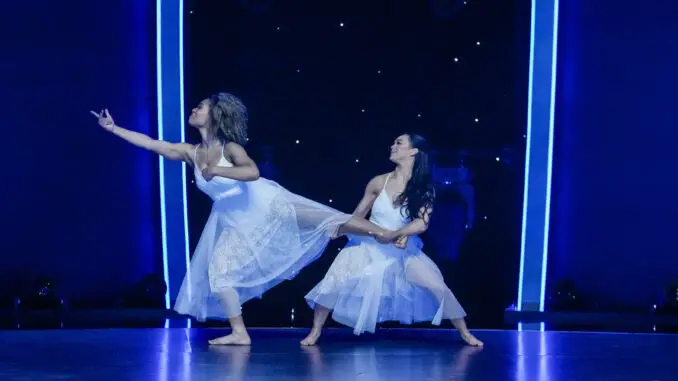 Essence notes how they're the last two girls standing and Alexis mentions that Essence helped her with Hip Hop while she helped Essence with Ballroom over the weeks.
I always feel bad being critical but this whole performance felt messy. Essence's strength seems to solely lie in Hip Hop. Alexis is a good Contemporary dancer. The number itself was beautiful.
Leah says they worked beautifully together. JoJo says Essence has some wobbles and Alexis is good at Contemporary, but applauds Essence for it. tWitch tells them to take their conviction from this number and spread it throughout the rest of the show.
Essence and Robert Green – Hip Hop
Essence says that when the routine is your style, they expect the best out of you.
This window washer story is a cute concept. This choreo seems to lack anything to make the routine stand out, but Essence always shines rightest with Hip Hop.
tWitch says Essence is dancing next to a star, but she's also a star. Leah says she agrees with tWitch and Essence should continue owning her stuff on the stage. JoJo says the number was exciting (I disagree lol).
Keaton and Audrey Case – Contemporary
The choreographer says this dance could be a standout moment for Keaton.
Like Essence and Hip Hop, Keaton shines in Contemporary. There were some beautiful tricks solely by Keaton and also with Audrey.
JoJo says the dance was insane and it was Keaton's most in-tune performance. tWitch says Keaton gave them commitment and conviction. Leah says the moves were perfect but she wanted to see more emotion.
Alexis and Kiki Nyemchek – Argentine Tango
Alexis recalls it being hard to see Carter go last week. he also says that while this is her style of dance, Argentine Tango is not her expertise.
First off, Alexis' dress is gorgeous. As a ballroom dancer, I always prefer an Argentine Tango over a regular Tango. I also could see how this isn't Alexis' expertise, but that's probably just my intricate eye for ballroom haha
Leah says it was beautiful overall. JoJo says it wasn't Alexis' most impressive number, but she dances with such a purpose. tWitch says he hopes the takeaway is not only was she beautiful, but all the way through she has to be invested in the character.
Keaton and Essence – Jazz
Essence says she needs to channel her rapper energy to nail this dance. Keaton says any little mistake at this point can be detrimental.
The thing about Essence is that it always looks as if she's trying to turn every style into Hip Hop, while Keaton embraces each style and really perfects them. The routine itself was a bit odd; not what I would consider a Jazz.
tWitch says he feels they were both challenged out of their style. Leah says this is not Keaton's dance but applauds him for taking it by the reigns. JoJo says Keaton was Mr. Flamboyant and Essence acted as what a star is.
The dancers in the finale are… Keaton and Alexis.
We say goodbye to Essence tonight, and join me next Wednesday as Keaton and Alexis battle for the winning spot in the SYTYCD finale!!