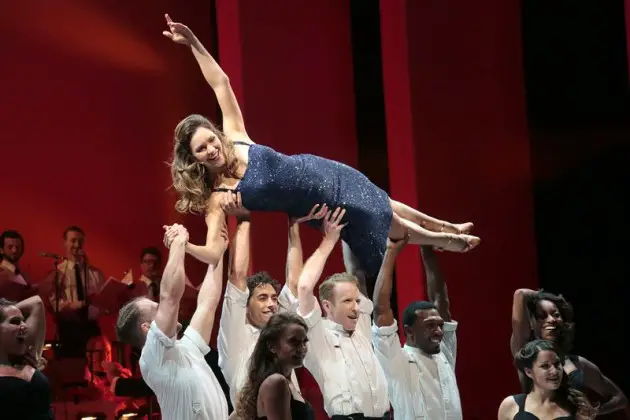 Due to the overwhelming enthusiasm for the Actors Fund Benefit that featured the music of Bombshell, from the NBC television series Smash, Universal Stage Productions has begun development on Bombshell as a musical for the stage.
This is pretty great, and unexpected news for Smash devotes! Bombshell, which centered on the life of legendary actress Marilyn Monroe, was the Broadway show at the center of Smash. It had lots of terrific music, but a book for the musical was never written. American Idol and Scorpion's Katharine McPhee starred, along with Megan Hilty, Christian Borle and Debra Messing.
"There is a still a lot of love for Smash and a rabid fan base out there, and we're thrilled to be able to keep the dream alive as we work towards bringing Bombshell to theatre audiences," said NBC Chairman, Robert Greenblatt. "Smash was ambitious because every episode was a complicated musical for television and we also built the foundation of the musical-within-the-musical about Marilyn's endlessly fascinating and tumultuous life. Over the course of two seasons an entire 'Bombshell' score was written to service 'Smash' storylines, and now that show will have a chance to stand on its own."
Smash was a terrible TV series, but the Emmy-nominated songs by Marc Shaiman and Scott Wittman, including the iconic 'Let Me Be Your Star,' are fantastic, and could certainly serve as the basis for a successful musical.
"We are so thrilled that Smash isn't over and that Bombshell gets to live on," said Craig Zadan, who, along with partner Neil Meron, will serve as the lead producers of Bombshell.
Added Meron: "As life imitates art, Joshua Bergasse, our brilliant Emmy-winning choreographer from Smash, actually made his Broadway debut this season as a choreographer and was nominated for a Tony Award. Now he will get the chance to reimagine his exhilarating Bombshell dances for the theatre."
Steven Spielberg had long wanted to develop a series about the making of a Broadway musical and Smash was that idea come to life. He was the executive producer of the series and will be involved in the new stage production of "Bombshell." A book writer will be announced shortly.
Shaiman and Wittman, also executive producers of the series, will continue on Bombshell with Shaiman serving as composer and co-lyricist and Wittman as co-lyricist. Their Broadway successes include Hairspray, Catch Me If You Can (based on the film directed by Spielberg) and Charlie and the Chocolate Factory, which is currently running in London's West End and will arrive on Broadway in the future.
No casting has been announced and no one from the cast of Smash is involved in the stage musical at this point. Megan Hilty as Marilyn is a no brainer. She was the shining star of Smash, and I'm betting fans will be disappointed if she doesn't return to the part.
So what do you think? Would you buy a Broadway ticket to Bombshell?