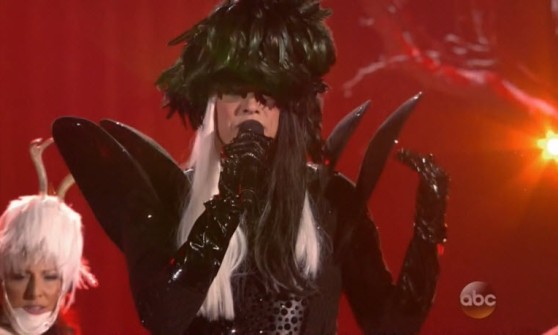 I got some blow back when I mocked the preview clip I posted last week of Sebastian Bach transformed into Adam Levine for the ABC show, Sing Your Face Off.
I don't dispute, that once upon a time, the dude was a credible talent. He fronted a popular band, Skid Row, and starred on Broadway.
But this clip, from the next hour of the show totally proves my original point. Whatever he was before, the guy has turned into a joke. Here he is impersonating Lady Gaga, and he's not even trying! Honestly, I think he's drunk.
The show, which also features Jon Lovitz, actress and reality star, Lisa Rinna, basketball player  Landry Fields and Disney princess, China Anne MccLain, transforms contestants into legendary and/0r A list music artists, with the help of a team of vocal coaches, makeup artists, choreographers (Tabitha Dumo!) and more.  During the vocal sessions, Allison Iraheta was spotted! I have no idea what she's doing mixed up in that mess. But there you are.
The contestant who will probably win is the Disney kid, China. Not only can she really sing, but she takes the competition seriously.  The  14 year old African American is given credible singers to impersonate, like Tina Turner and Rihanna. She's totally a ringer.
The contestants sing in front of judges. Two of them are comedians, David Allen Grier and Darrell Hammond (which tells you pretty much where this show is coming from) and 80s teen idol, Debbie Gibson. RuPaul, from LOGO's Drag Race judged the second episode. Perfect.
The summer time/Saturday night/double episode scheduling screams burn off. ABC has probably had this series sitting on the shelf for awhile and figured why not. Might get a few more viewers than another Castle re-run.
Here are more ridiculous performances.
OMG. Lisa Renna. Dolly Parton. A horror in pink. Trainwreck
And as Britney Spears. WTF.
Jon Lovitz as Elton John. He treats the performance like an SNL skit. Which is just about right.
And finally, the ringer. Disney girl, China Anne, as Rihanna. Not ridiculous. She'll probably win.