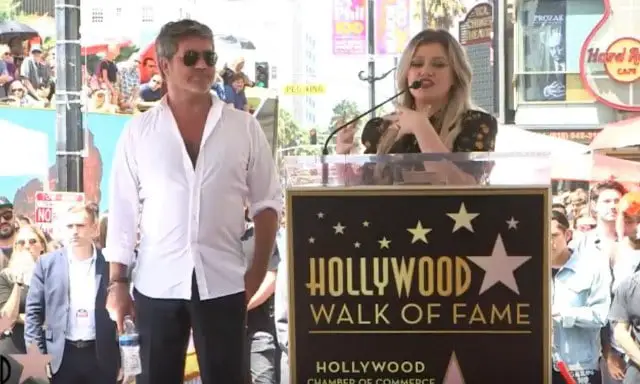 Simon Cowell was honored with a star on the Hollywood Walk of Fame on Wednesday (Aug 22). The former American Idol judge was introduced by OG winner Kelly Clarkson. Also on hand for the event were Idol alums Adam Lambert and Katharine McPhee with her fiance David Foster. Also in attendance was fellow ex-American Idol judge Randy Jackson.
There were folks in attendance from the other shows Simon produces/judges as well. Fellow America's Got Talent judges Howie Mandel, Mel B. and Heidi Klum stopped by. AGT winners Grace Vanderwaal (2016) and Darci Lynne (2017) were there. Also, X Factor UK and new judge Louis Tomlinson made the trip to Hollywood to congratulate Simon. And X Factor winner, Leona Lewis, who famously parted ways from Simon's label, appeared to pass on good wishes to an old friend.
"I think his thing that he's so talented at," said Kelly during her induction, "is finding authentic people with raw talent who are really themselves." She added, "I think that's something that should be applauded." 
"Literally we were right here 16 years ago when this man helped change my life and so many sitting over here," Kelly said referring to her American Idol win in 2002. "Thank you is what I really wanted to say to Simon Cowell today."
Simon's remarks were short and sweet. He shared growing up in the UK, he was a "massive fan" of American television and movies. "It is so surreal I cannot tell you," Simon said of the Walk of Fame honor. He thanked all the fans of the TV shows and records he produced because "without that, we wouldn't be here."
"It's been a blast the last 18 years," Simon added, "If anyone says fame is a bad thing, I don't know what you're talking about. It's the best thing in the world."
Watch the full ceremony, including Simon posing for photos with family and pals below.  Unfortunately, the audio was out through much of Kelly's speech. Maybe separate video will turn up somewhere else. 
Kelly's Speech
https://youtu.be/IcyRVQjrb14
PHOTO GALLERY