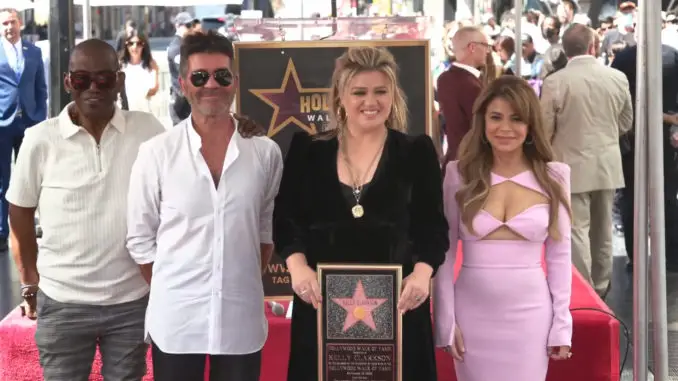 Kelly Clarkson was supposed to get her star on the Hollywood Walk of Fame in 2021. But when COVID delayed those plans, the ceremony was pushed to this month. It worked out. The new date, September 19 2022, coincided with the 20th anniversary of winning the inaugural season of American Idol. In fact, the ceremony took place only a few feet away from the Dolby Theater, where she was named the first winner of the iconic show.
Former American Idol judge Simon Cowell presented her with her star. He's only returning the favor. as she presented the mogul with his star back in 2018. Additionally, Kelly's longtime band director, Jason Halbert, and former fellow American Idol judge, Paula Abdul also introduced her. Randy Jackson was also in the audience to cheer her on. 
"Her voice was a gift she was born with"
"Her voice was a gift she was born with," said Halpert, "and I believe it's unmatched by anyone alive. But it's her authenticity in her heart that has captured the soul of America, and the world these past 20 years. She's used her voice to give a vocabulary to us who have suffered heartache, pain and suffering. She's given us anthems to celebrate love and songs to mark milestones in our lives."
Halpert continued, "As if 28 million albums, numerous top 10 singles coaching The Voice, non-stop touring wasn't enough, Kelly took on a new role in 2019. It's the host of The Kelly Clarkson Show. And wow, just in time. Because in a world that daily tries to divide us, Kelly brings us together. And while the news might highlight the bad, she's always highlighting the good amongst us. And in the celebrity culture that pushes Perfection and eliteness, she's given us reality and authenticity."
Kelly asked Simon to stay away from her!
Next, Simon Cowell remarked how Kelly literally changed his life. "I remember the day we met you." Simon admitted that he didn't see a star in Kelly at first. "I remember not just your voice, but your personality." He continued, "And I've got to be honest. I didn't realize at that point…how good you were. I just liked you."
But it was Kelly's performance of Aretha Franklin's "Respect" that grabbed Simon's attention. After that performance, Simon approached Kelly to compliment her, and she turned around and said, "Without being rude. I would rather we didn't talk until the end of the series." She added, "Stay away from me, I know what I'm doing…I'm focused."
At this point, Kelly interjected. "I didn't want it to look like…I didn't want to talk to anybody involved that was voting us through. I was trying to be respectful of the environment." She added, "And also, I didn't want you getting in my head, man! You mess with all those people…I was like, no bro, you get out of my head." Simon quipped, "It's like a therapy session!"
Simon admitted that he owes his career to Kelly
When Kelly won, Simon said he thought, 'Thanks to you, we may have another season." He added, "Her voice was a gift she was born with,"
"Kelly has always known her lane," said Simon about her steeliness and determination. "She's one of the one of those people who from day one was respectful to the people who voted for her, who bought her records, who bought bought her tickets. And she's never lost that. The Kelly you see in front of the camera is the Kelly you see behind the camera. She is one of the nicest most loyal, most talented people I've had the great great fortune to have [known]."
Paula arrived fashionably late…and then grabbed the microphone
Paula arrived at the ceremony late, and noted that she changed a flight just to be there. She also took the stage, interrupting the host. It's clear she wasn't scheduled to speak, but said a few words anyway. "Thank you for changing the trajectory of my life and making me believe, like a kid believes in Santa Claus, that young talented people can make it, and they can make it big time. Congratulations for everything…you're not even about to do, but you will be in the next 10 years. I can only see it happen. The sweetest person."
After a Los Angeles City council member presented Kelly with a resolution, She noted that she loves Simon, but was scared of him at the time. Nevertheless, she appreciated his honesty, as she does of all the people whom she works with, including her label, talk show staff, and backing band members.  "To have not just yes people around you but people that actually love you and care about you and give their honest advice. I've always welcomed that."
"There are dreams you didn't know you had until they end up happening." 
"It's just a weird thing to be here," said Kelly.  "This is where I won 20 years ago…I would be lying if I was like…I knew it! I didn't." She continued, "I feel very lucky and fortunate because I know a lot of talented people that love singing…and writing songs and even talk show host. I just feel very fortunate that I get the chance. There are dreams you didn't know you had until they end up happening." 
Kelly mentioned that her kids in the crowd, Remy and River, were beginning to get restless, so it was time to wrap things up. 
"I feel very honored and I don't feel deserving because I don't think people realize, how many people actually make all of this happen," said Kelly, mentioning Jason and others who have been amazing partners in her career.   
Before posing for photos, Kelly finished, "Thank you so much, guys. Thank you fans. Y'all are so incredible, thank you for the support."
Watch the full ceremony below.