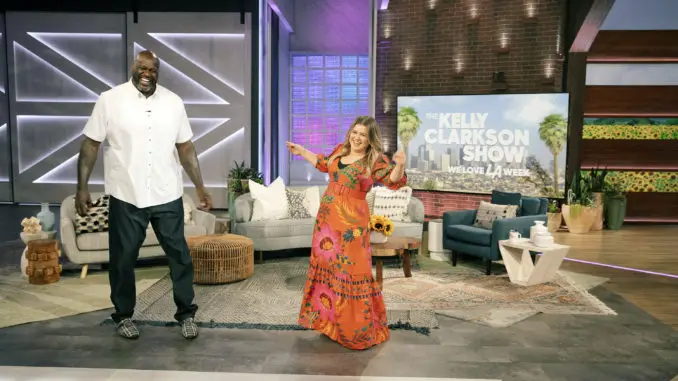 Kelly Clarkson joined four fellow superstar acts in Las Vegas on Saturday (Oct 2) to raise money for the Shaquille O'Neal Foundation which supports Boys & Girls Clubs and schools.
Justin Bieber, Snoop Dogg, Imagine Dragons and Andra Day shared the stage at the MGM Grand Garden Arena alongside MC Jimmy Kimmel.
According to People, Kelly had the most sentimental moment of the night.
Kelly Clarkson is Officially Divorced from Brandon Blackstock
"Shaq mentioned that he couldn't afford daycare, his family couldn't afford day care. Mine couldn't either. My mom just happened to work there so I got in for free," she said. "But I love doing events like this, and I love hearing from artists. Everyone sees where we're at. They don't see where we came from, and everybody need a helping hand, everybody needs opportunity. I was one of those kids that grew up on hand-me-downs."
Shaq Joins Kelly on Stage to sing Since U Been Gone!
Kelly might have also had the most fun moment of the night, as Shaq crashed the stage during her performance of her hit song "Since U Been Gone" to sing along. Being %100 tone deaf did NOT STOP SHAQ. Gotta admire his game.
When Shaq visited Kelly's afternoon talk show, The Kelly Clarkson Show during premiere week, he already started practicing the song! He thanked her from the bottom of his heart for agreeing to participate in the fundraiser.
Sing it @Shaq!! ???? The @shaqfoundation fundraising gala is happening TONIGHT in Las Vegas! Proceeds from the event will provide opportunities and resources to kids in need?? Get your tickets at https://t.co/NphxZ1I8a4. pic.twitter.com/5atfpGb3TV

— Kelly Clarkson (@kellyclarkson) October 2, 2021
Paula Abdul in the House
And look who is in the audience to cheer her girl on! OG American Idol judge, Paula Abdul was front row and center to cheer on the American Idol OG winner.
Paula Abdul supporting Kelly Clarkson at The Event. She's so proud of Kelly! pic.twitter.com/Ka1ZEXjzgT

— Paula Abdul Forever (@paulaabdul4ever) October 3, 2021

In addition to the live music, the evening featured auction items, including UFC tickets, Lakers tickets, and a trip to Africa. One available item was also a walk-on role in an upcoming Adam Sandler movie, which O'Neal won for $90,000.