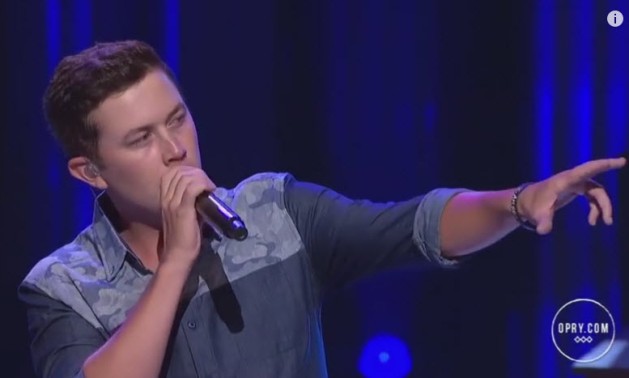 When it comes to country music, Scotty McCreery is an old soul.  When the American Idol season 11 alum covers the classics, he does so with reverence and an understanding of the genre's long legacy.
At the Grand Ole Opry recently, Scotty delivered an impressive take on the 1974 George Jones hit, "The Grand Tour."
According to Rolling Stone Country, the song was originally released months before Jones' divorce from Tammy Wynette, "The Grand Tour" foreshadowing the heartbreak to come. Adding an extra layer of irony: Wynette later married one of the song's co-writers, George Richey. He remained her husband until her death in 1998.
It's unlikely that 21 year old Scotty has experienced that kind of heartbreak. Although he doesn't have the wealth of life experiences Jones had under his belt at that point, the singer is still able to connect to the lyrics in his own way, bringing the heartbreaking story of a man whose love just left him alive.
Currently, Scotty is opening on the  Rascal Flatts tour, in between one-off solo concerts of his own.  The singer also has  a new single, "Southern Belle,"  coming out this fall, and a new album soon thereafter.
Watch Scotty sing "The Grand Tour" at the Grand Ole Opry right here.
https://youtu.be/ksV2NNV9abo