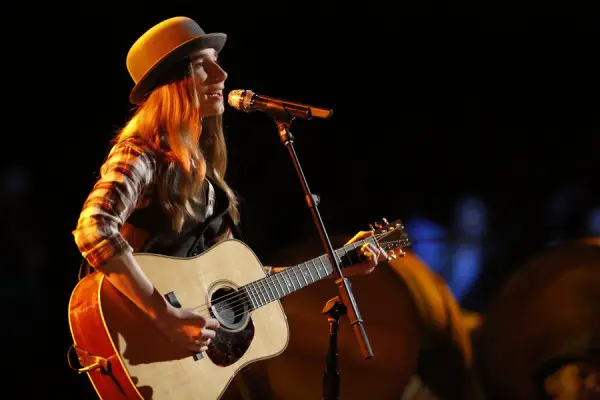 Season eight winner Sawyer Fredericks will make his return to The Voice on Tuesday, May 3 to perform his new single, "4 Pockets," from his new album, A Good Storm (Republic Records), due May 13. On the same night, the Joe Jonas-led group DNCE will perform a medley of their singles "Cake By the Ocean" and "Toothbrush."
LISTEN: The Voice's Sawyer Fredericks "4 Pockets" Full Audio
Sawyer Fredericks Announces "A Good Storm" Album, Cover Art
WATCH: Sawyer Fredericks Drops Intriguing "Take it All" Music Video
As a member of Team Pharrell on the two-time Emmy Award-winning musical competition series, Sawyer not only won season eight but also set a record for the first artist to have 14 songs in the iTunes Top 200 singles chart in one week. His songs were downloaded nearly 1 million times on iTunes while he was on the show.
For the bulk of the music on the album, Sawyer collaborated with producers Mikal Blu & Izy (One Republic, Colbie Caillat, Jazon Mraz) as well as his Voice coach Pharrell Williams.
The music video for the single "Take It All" premiered last month and has a combined view/stream count of nearly 1 million on YouTube and Spotify.
Sawyer will be touring in support of the new album, beginning May 8 in Albuquerque, N.M.
Sawyer grew up on an 88-acre farm in upstate New York. His shyness belies an intense empathy and vibrantly robust voice honed by performing weekly at a local farmer's market and cutting his own independent debut locally. Upon his debut on The Voice, he quickly enchanted audiences everywhere.
Assembled by frontman Joe Jonas, DNCE's all-star bandmates include bassist/keyboardist Cole Whittle, who co-founded the band Semi Precious Weapons; South Korean-bred guitarist JinJoo, who has toured with the Jonas Brothers, Charli XCX and CeeLo Green; and drummer Jack Lawless, who has previously joined the Jonas Brothers, Night Terrors of 1927 and Soft Swells on the road.
Next up, DNCE will be the opening act for multiplatinum singer and actress Selena Gomez' 2016 "Revival Tour" this summer.