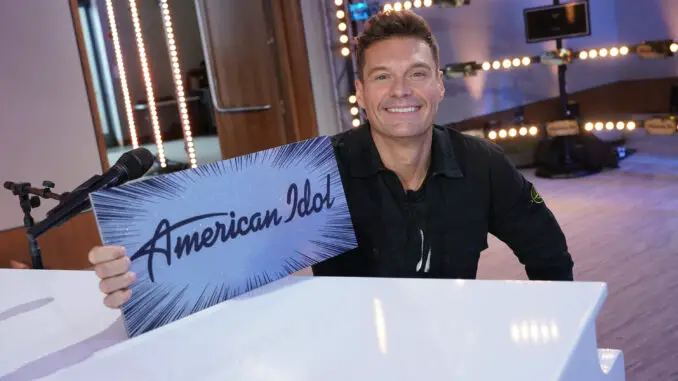 Ryan Seacrest will miss the New Orleans judges auditions after testing positive for COVID
Bad news! Ryan Seacrest has tested positive for COVID-19. Not only will he miss broadcasting his syndicated radio show for iHeartMedia, and be unable to tape his morning talk show on ABC, Live with Kelly and Ryan, but he is absent from the American Idol judges auditions taking place NOW in New Orleans.
Ryan, who has hosted American Idol since the show premiered in 2002, announced the news on social media. He was a COVID-19 virgin up until now. "I don't know how I avoided it for so long," Ryan wrote. "But unfortunately I tested positive for COVID-19 a few days ago and I'm currently in quarantine." He continued. "While I'm feeling the usual symptoms, I hope to make a quick recovery."
Ryan joked, "I'll be in bed watching TV this week, so please let me know if you have any recommendations (especially for any foodie shows!) Ryan has been open lately about his desire to host a food show. He loves to cook!
— Ryan Seacrest (@RyanSeacrest) October 11, 2022
Ryan has only missed ONE American Idol episode over the years due to illness. Idol mentor at the time, Bobby Bones filled in as host in 2019 for an episode featuring the Top 20.
However, Ryan has missed days filming in American Idol audition cities before. During seasons 2 and 3, Ryan hosted an afternoon talk show for FOX which kept him in Los Angeles. Ryan will probably add voice over to the New Orleans audition clips, and it will be as if he were there.  Since the audition episodes in the ABC era do not devote entire episodes to specific cities, editing magic can make it appear as if he didn't miss a beat. The show might not even acknowledge his absence. 
Confirmed sighting in New Orleans: Judges Lionel Richie, Katy Perry and Luke Bryan are auditioning Idol hopefuls at the Four Seasons Hotel. The trio have been in town since Sunday, October 9. Nashville is the third and last American Idol 2023 audition city, set for sometime in November. Ryan will undoubtedly be back on his feet by then.