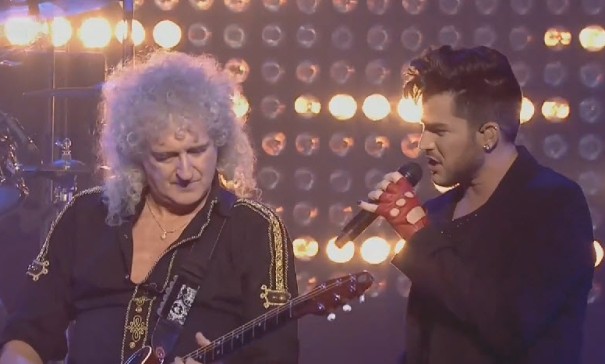 Watch Adam Lambert and Queen perform "Don't Stop Me Now" from band's New Years Eve 2015 concert in London! The show was streamed LIVE on the BBC1.
Click this YouTube channel to watch the performances.
The set list included: "Who Wants to Live Forever," "I Want it All," "Don't Stop me Now," "I Want to Break Free," "Somebody to Love," "Another One Bites the Dust," "Under Pressure," "Fat Bottomed Girls," "Radio Gaga," "I Want it All," "Crazy Little Thing Called Love," "The Show Must Go On," "Bohemian Rhapsody/Killer Queen," and "We Will Rock You/We Are the Champions."
The song is a fitting choice to post, on the biggest party night of the year. "Don't Stop Me Now" is one of my favorite Queen songs!
The concert, played in the shadow of the iconic London landmark, Big Ben, was interrupted only for the stroke of the bell at midnight…and fireworks!
The set was a preview for the folks across the pond. Beginning later this month, Queen + Adam Lambert will embark on a European tour that will take the band across the UK and Europe.
Watch Adam Lambert and Queen perform "Don't Stop Me Now."
http://youtu.be/VsUSy5GwMeY
ETA: Here's the FULL Concert
http://youtu.be/b2cTOpW8yd4