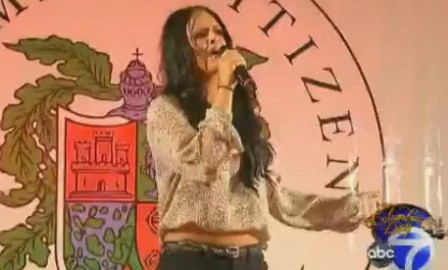 American Idol Season 10 alum, Pia Toscano performed at the 67th annual Columbus Day Parade in New York City on Monday (October 10th).
Organizers report that over 35, 000 people marched up Manhattan's Fifth Avenue as part of the event. Pia hails from Howard Beach, Long Island, so she was performing to a home town crowd.
Pia not only participated in the parade, but performed a couple of songs on a small stage set up along the route. Watch her sing the Pretender's "I'll Stand By You" below.
Earlier Pia called into CBS FM with an album update: Pia said she's currently putting the finishing touches on her debut album, that is set to be released in early 2012. (Source: Direct Lyrics)
Interview with CBS FM
http://cbswcbs.files.wordpress.com/2011/10/pia-toscano.mp3
Source: Via Pia Fans.net