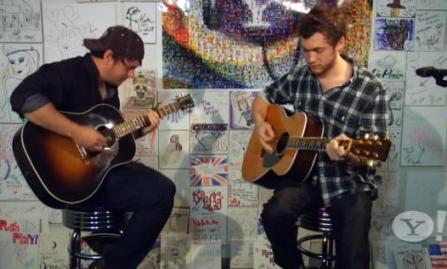 Lyndsey Parker from Yahoo music got a nice long sit down with American Idol winner, Phillip Phillips recently. He talked about the challenges of making it through the competition with painful kidney stones, his coronation song, "Home", which he performed with his brother-in-law Ben in studio (he says he thinks it's a good song and he's making it his own) and his upcoming album.
The album, which Phillip thinks will come out in November/December, is currently underway. He's recorded a bunch of demo-type songs already. He's hoping to write a little bit on each of the songs.  As far as the powers that be are concerned–he realizes there will have to be give and take with the label, but will stick to his guns on the important points.
The sound will incorporate a little bit of rock, a little jazz and some acoustic stuff.  Ben will play on the album and Phil is hoping to bring in a friend who plays saxophone. He says he's been working with some amazing people who have dispelled the notion he used to have that "Hollywood types" are phony.
As far as being a polarizing contestant-negative opinions don't bother him. If there are those who feel Jessica Sanchez should have won, that's fine.  "She's an amazing artist," he says. But he thinks life is too short for fan wars! (CO-SIGN) He adds that he would have been proud of himself is he had gone out at the Top 24.
He was so consumed with the competition and his health, the enormity of what was actually happening to him didn't hit him until the finale, which is why he broke down.
Also, Phillip has the highest regard for Casey Abrams as a musician. He's the contestant who inspired him to try out for Idol. They jammed a little together one night before a show.
Check out the interview and "Home" performance below. And as a bonus, "Home was played as background music during last night's Olympic trials on NBC!
Interview
Acoustic Home
"Home" used as background during the Olympic trials
Via Rickey.org