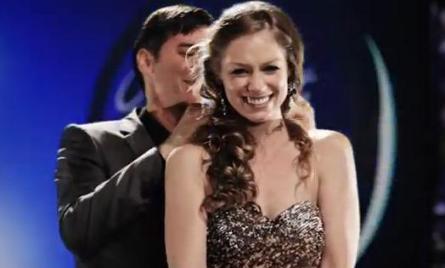 Didi Benami plays the part of the winner of an American Idol like talent competition in the "Hurricane" music video from fly over rockers, Theory of a Deadman.
The comparison stops at the competition. The Season 9 Idol alum not only wins the competition, but also spirals out of control on booze and alcohol. There's even a little lesbian kissing action–no doubt meant to pander to the band's overwhelmingly male fan base. Eh.
I am also underwhelmed by the plot: Bitch leaves her dude at the curb to pursue fame and fortune, but comes crawling back after she receives a harsh comeuppance.
Having said that? Didi does a good job in a video that gives her ample opportunity to do a little scenery chewing. I'll bet it was fun to shoot.
ETA: Andy Dick has a cameo. He plays a straight laced dude who suffers at the hands of Didi's trainwreck. Which is…a little ironic.