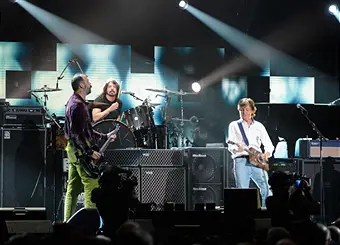 One of the many highlights from last night's 121212 Concert for Sandy Relief at Madison Square Garden was the blow out jam with Paul McCartney fronting a band made up of the surviving members of Nirvana.
Dave Grohl, Krist Novoselic, and Pat Smear joined Sir Paul to perform a song they wrote together called "Cut Me Some Slack." It was the first time the Nivana boys played together in almost 20 years.
Check it out. Did you watch the concert last night? What were your favorite performances?