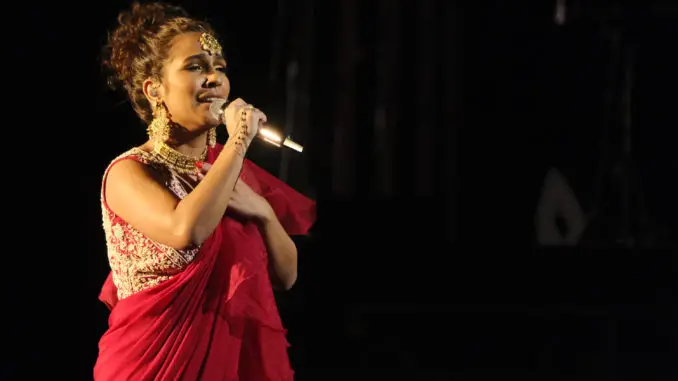 The Voice semi-final eliminations are always heartbreaking. An artist goes so far on the show, but gets cut right before the finale. Seventeen year old Parijita Bastola left season 22 earlier this week along with Team Gwen Stefani's Justin Aaron, Team and fellow Team John Legend member, Kim Cruse. 
After her elimination, the singer, the first The Voice artist of Nepalese heritage, wrote a heartfelt goodbye message to her fans, fellow contestants and coach John Legend. She recounts how nerve wracking it was to end up singing for the Instant Save for the first time.
"I am so proud of myself. Top 8 is what I had imagined and more!" the singer wrote. "Having to sing for the instant is a unexplainable terrifying moment, but right before I started singing "Make You Feel My Love" I saw every version of myself on the show."
As she performed her Instant Save song, Parijita felt at peace
Parijita continued, "I remembered the people I love and met. I got to see some of them in the crowd. I felt at peace. And I truly am. The outcome may not have been what I imagined. But I am incredibly proud of my friends and I. Tuesday was our finale and we made one hell of a show!!!
The Voice: Parijita Bastola Turns 4-Chairs with "Jealous" Cover
"AHHHH @kimcruseofficial and @jaaron_88!" the singer addresses her fellow Instant Save competitors. "Beautiful souls, beautiful voices who deserve everyone's love and support off this show! They are going to changeeeee this world. Thank you for standing beside me, holding my hand and loving me."
"In every lifetime I would pick you as my coach again"
The singer thanks her coach, John Legend, "@johnlegend in every lifetime I would pick you as my coach again. My greatest gift on this show was working with you and singing with the beautiful people of our team. Thank you for giving me the chance to do all of those things!!"
The Voice 22 Team Legend Battle: Parijita Bastola Vs Marilynds,
And Parijita does not leave out the unseen crew members for thanks: "I also want to thank the coolest people @jerilynnstephens @kristenebmakeup @darcygilmore @hairbydarbie @theginagmakeup for making me feel BEAUTIFUL . Allowing me to be authentic and myself. For being awesome people that truly cared about the people behind the faces!!! This experience would have been nothing without meeting and working with you all!!!! Thanks for tolerating me moving and talking every 4 seconds."
"This would not be possible without your love"
And last but not least, Parijita thanks her supporters: "THANK YOU to my supporters and friends for getting me to the top 8! This would not be possible without your love!! I can't wait to show you all what I have planned next!!!!
And she gives a big shout out to the Instant Save winner her fellow team member, Omar Jose Cardona, who will move on to the finale with Team Blake Shelton members, Bodie, Bryce Leatherwood and Brayden Lape, plus Team Camila Cabello's Morgan Styles. "Lastly, @omarjosecardona you deserve the ? take team legend all the way!!!" Parijita gushes
In comments, Omar replied: "You exude light, joy, and passion. I've never met anyone like you in the world. You my friend will soar higher then anyone else. We will be squinting in your light. Thank you for befriending me and thank you for your support. I cannot wait to see what you give to the world. Talk about change. You have it all! Team Legend all the way!"
Parijita was a favorite to move on to the finale based on her beautiful vocal tone, control and phrasing which belied her young age. That's in addition to her composure and professionalism on stage.