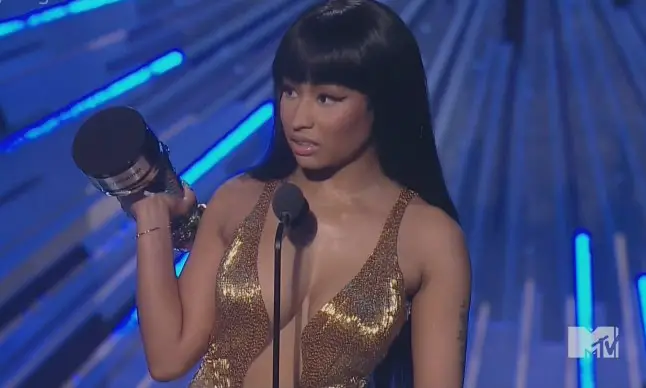 In a contentious interview with the New York Times, on a wide range of subjects, Nicki Minaj opened up on why she called out Miley Cyrus at the MTV Music Video Awards last month.
"The fact that you feel upset about me speaking on something that affects black women makes me feel like you have some big balls," Minaj said. "You're in videos with black men, and you're bringing out black women on your stages, but you don't want to know how black women feel about something that's so important? Come on, you can't want the good without the bad. If you want to enjoy our culture and our lifestyle, bond with us, dance with us, have fun with us, twerk with us, rap with us, then you should also want to know what affects us, what is bothering us, what we feel is unfair to us. You shouldn't not want to know that."
Nicki was responding to some uncharitable comments Miley made in HER recent interview with the New York Times about Nicki and her criticisms of the VMA nomination process and resulting tiff with Taylor Swift .
"What I read sounded very Nicki Minaj, which, if you know Nicki Minaj is not too kind," Miley said. "It's not very polite. I think there's a way you speak to people with openness and love. You don't have to start this pop star against pop star war."
Which is a pretty funny thing for Miley to say–while she was criticising Nicki herself.  When  Nicki accepted the Best Hip Hop Video Moonman for her "Anaconda" video, she called out Miley–who was hosting the ceremony.
"Back to this b**ch that had a lot to say about me the other day in the press; Miley, what's good?" Minaj confronted Cyrus on live television. Miley didn't see it coming. To her credit, she hasn't bitten back. This trend of pop girls going after each other in the press, I have to say, is pretty disheartening, and not a good look.
Nicki's interview with the Times came to an abrupt end when the reporter, Vanessa Grigoriadis, asked about the beef between her ex, Meek Mill and Drake, which seemed to consume the press over much of the summer.  The writer asked if there was a part of her that thrived on drama. Nicki wasn't having it.
'That's disrespectful,'' Nicki said, ''Why would a grown-ass woman thrive off drama?'' Nicki then wondered what the issues between "grown ass men" had to do with her and whether she "thrived off drama."
After calling the writer "rude" and a "troublemaker," Nicki said ''Do not speak to me like I'm stupid or beneath you in any way'' before declaring, ''I don't care to speak to you anymore.'' And with that, the reporter found herself in the lobby of the hotel, waiting for a ride home.