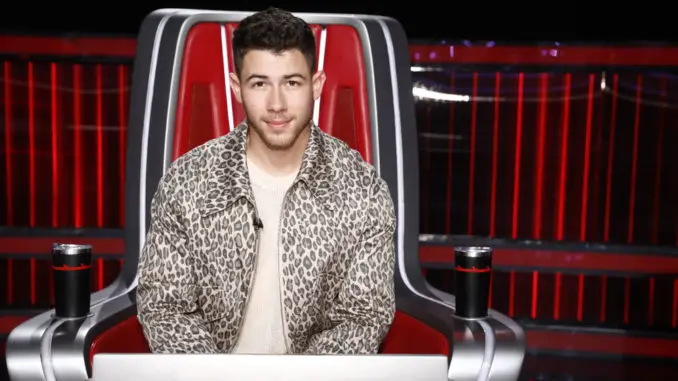 After weekend reports that an on-set accident sent him to the hospital, fans wondered if Nick Jonas would turn up to his coaches seat on Monday (May 17) for the live The Voice semi-final. Happily, when the show opened, Nick was sitting in his big red chair next to fellow coaches  Blake Shelton, Kelly Clarkson and John Legend.
Before the show kicked off, host Carson Daly gave Nick the opportunity to explain exactly why he ended up in the hospital over the weekend. "I'm feeling OK," Nick said, "but I've been better, but I'm doing alright." The singer went on to describe his injuries and how they happened, "Cracked rib from a spill on a bike and a few other bumps and bruises." But not to worry, Nick's sense of humor was still intact. "I just want to go and say that in case, I'm not as physically enthusiastic, as I usually am. But Blake, please don't make me laugh too much because it kind of hurts a lot." Blake quipped, "You're just trying to get sympathy votes on this show."
"It's a big elaborate plan," Nick joked. Nevertheless, despite his painful injuries, Nick did manage to stand and cheer on his team members Dana Monique, Rachel Mac, and others throughout the show (Read our recap).
The weekend reports were very mysterious
Surely, fans welcomed the explanation, as the reports were very mysterious.
Sources would not disclose to TMZ the nature of the accident or injury. But it was serious enough that an ambulance took him to a nearby hospital, the outlet reported. Additionally, TMZ said that there is "something super secret about this shoot. Our sources wouldn't even tell us the name of the project Nick was working on. Unclear why they're all so secretive."
Watch Nick Jonas describe and joke about his injuries on The Voice below. Hope he gets well quick. NBC scheduled him to host the May 23 Billboard Music Awards on NBC.