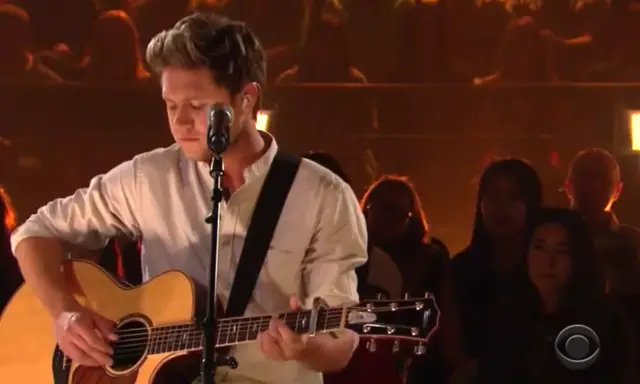 Former One Direction bandmate Niall Horan dropped by the Late Late Show with James Corden Wednesday night to perform his debut solo single.
The born again White Guy with Guitar strummed his acoustic as he sang the Ed Sheeran inspired ballad, "This Town."
There was controversy when Niall reportedly turned down a deal with Syco–Simon Cowell's record label–to sign on with rival Universal. There were even rumors–which Simon denied–that Niall was banned from performing on the X Factor due to his disloyalty. There would have been no fame for Niall, Simon's reasoning goes, if he wasn't plucked out of the X Factor reject pile to be a member of his manufactured boyband. One Direction came in 3rd place on X Factor in 2010 and subsequently went on to worldwide fame.
While you contemplate that bit of British pop gossip, check out Niall Horan performing "This Town." It's a pretty little ditty.