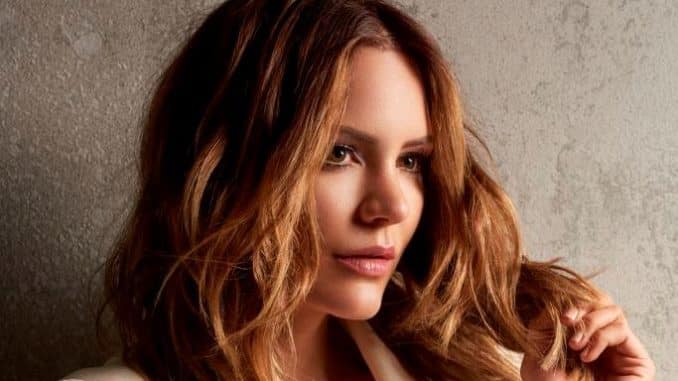 It's official. American Idol season 5 alum Katharine McPhee is set to star in a new Netflix original comedy. The streaming service has ordered 10 episodes of Country Comfort, a new original multi-cam comedy series created by Caryn Lucas (The Nanny, Miss Congeniality).
Katharine McPhee Signed Deal With Netflix For Nanny-Like Sitcom
In the new series, Katharine plays an aspiring young country singer named Bailey. When her career and personal life get derailed, she takes a job as a nanny for a rugged cowboy named Beau (Eddie Cibrian) and his five children. With a never-give up attitude and loads of Southern charm, this newbie-nanny is able to navigate the family dynamics and be the mother figure they've been missing. To her surprise, Bailey also gets the band she's been missing in this musically talented family who help get her back on the road to stardom.
The press release isn't specific, but I'm assuming the series will feature musical numbers. Plus–Katharine McPhee with a southern accent?
The series also stars Eddie Cibrian (Take Two, RoseWood) as Beau, as well as Ricardo Hurtado (Malibu Rescue), Jamie Martin Mann, Pyper Braun, Shiloh Verrico (Here Today, Crown Vic) and Griffin McIntyre.
Although a The Nanny writer/producer is involved with the project, it's not a reboot of the 90s hit series or associated with it in any way, reports Deadline.
The television series is Katharine's third. She headlined the NBC musical dramedy Smash for two seasons from 2012-2013. She also starred in the CBS procedural Scorpion for four seasons from 2014-2018. Most recently, she played the lead in the musical Waitress in both London and New York. In March, she will join her husband David Foster for the second leg of his 2020 tour. 
An interesting sideline: Katharine had mentioned in interviews that after her marriage, she changed her last name to Foster, and planned to use it professionally. However, she is billed as "Katharine McPhee" in the Netflix press release.