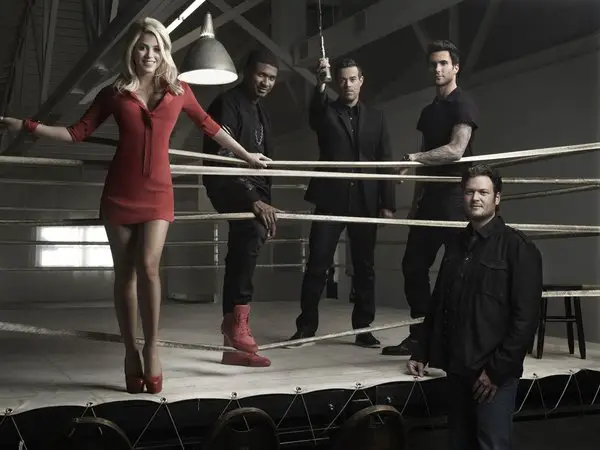 It's official. Christina Aguilera, Cee Lo Green, Adam Levine and Blake Shelton will return to The Voice in the fall. Usher and Shakira will join Adam and Blake for the 6th season in the spring. Carson Daley will be back as host for both seasons.
Read the press release below:
CHRISTINA AGUILERA, CEELO GREEN, ADAM LEVINE AND BLAKE SHELTON SET TO RETURN TO 'THE VOICE' IN FALL
UNIVERSAL CITY, Calif. — May 17, 2013 — Illustrating the continuity between its original and current coaches lineup, "The Voice" will bring back Christina Aguilera, CeeLo Green, Adam Levine and Blake Shelton for its fifth cycle in fall and will pair Levine and Shelton with Shakira and Usher for the sixth cycle in midseason. Carson Daly will return as host for both cycles.
The announcement was made by Paul Telegdy, President of Alternative and Late Night Programming, NBC Entertainment.
"We locked in a plan several months ago to have the outstanding Christina Aguilera and CeeLo Green rejoin Blake and Adam for cycle 5, and we're pleased to announce that the original four coaches are going to be back together in the fall," said Telegdy. "They're the reason this show was launched so strong for the first three cycles and we owe them a debt of gratitude. And after careful consideration of everyone's schedules for next spring, we are excited to be returning the current cycle of judges — Shakira and Usher along with Blake and Adam — for cycle 6, which will premiere after the Winter Olympics."
"We're very fortunate to have these six incredible artists to weave in and out of the show as their performing and recording schedules permit," said NBC Entertainment Chairman Robert Greenblatt. "The show has taken off largely due to the rapport and commitment of these great coaches, in addition to the expert hosting of Carson Daly."
"I am so thrilled that our Voice family has grown from four coaches to six," said executive producer Mark Burnett. This show thrives on the ability of our coaches to continue to balance their enormous music careers with working on The Voice to coach some of the best undiscovered talent in America. The coaching panel of Christina, CeeLo, Adam and Blake was at the heart of this show in its first three seasons and we are so lucky to have found equal success with Shakira and Usher in season four. Our best seasons are ahead of us."
The current cycle of "The Voice" is averaging a 5.2 rating, 14 share in adults 18-49 and 14.5 million viewers overall on Monday nights, making it the season's #3 primetime series on ABC, CBS, NBC and Fox in adults 18-49, as well as the #2 entertainment series and the #1 reality series, according to "most current" results from Nielsen Media Research. The Tuesday edition is averaging a 4.7/14 in 18-49 and 13.4 million viewers overall, making it the #4 entertainment series on in 18-49. Every telecast of "The Voice" so far this cycle, excluding recap episodes, has won its time period in adults 18-49.
Shelton, Levine, Green and Aguilera were the coaches for the first three seasons of "The Voice," and helped establish the musical competition series as a dominant ratings force. Shakira and Usher have only built on that, continuing to make "The Voice" a Nielsen hit.
Shakira and Usher will reteam with Shelton and Levine in midseason. The show will receive plenty of promotional pop during NBC's coverage of the February Winter Olympics from Sochi, Russia.
Aguilera, who served as a coach on "The Voice" for the first three seasons, has sold over 50 million albums worldwide and recorded six #1 singles on the Billboard Hot 100 chart. Billboard named Aguilera as the top female artist of 2000 and 2003 and Rolling Stone named her one of the 30 best voices of our decade.
In 2013 she was named as one of Time's 100 Most Influential People in the World.
Green, a highly popular "Voice" coach from the first three seasons as well, is set to release the forthcoming new solo album "Girl Power," Goodie Mob album "Age Against the Machine" and also recently launched his Las Vegas residency show "CeeLo Green Is Loberace" at the Planet Hollywood Casino and Hotel in Las Vegas. The singer-songwriter-actor is a five-time Grammy Award winner and has also appeared on several television shows, including "Saturday Night Live" and "Parenthood. In addition, he was seen by more than 100 million viewers during the 2012 Super Bowl halftime show with Madonna.
Levine has been a coach on "The Voice" since the show's debut in April 2011. He is also the lead singer for supergroup Maroon 5, which has sold more than 17 million albums. The group's third single, "Daylight," from its "Overexposed" album, recently claimed the #1 spot on both Top 40 and Hot AC radio charts.
In the process, the band set a record for the most #1's (six in total) by a group in the Top 40 chart's 20-year history. Their new single "Love Somebody" will debut May 20 on "The Voice." Together, with his band Maroon 5, Levine has received three Grammy Awards and 11 nominations
Shakira, who will work on her upcoming album before returning to "The Voice" for the sixth season, has sold over 60 million records worldwide and has won numerous awards, including two Grammys, nine Latin Grammys, three American Music Awards and five Billboard Music Awards, to name a few. She is the only artist from South America to have a #1 song in the United States. She has had four of the 20 top-selling hits of the last decade, including 2006's unforgettable "Hips Don't Lie," the biggest-selling single of the 21st century, which reached the #1 spot in an astonishing 55 countries.
Blake Shelton is CMA Awards' reigning Entertainer of the Year and three-peat Male Vocalist of the Year. With eight consecutive No. 1 singles (13 overall), Shelton is one of the "most versatile of contemporary country singers" (The New York Times). His infectious multi-week No.1 hit "Honey Bee" still holds the record for the fastest-selling digital platinum single for a male country solo artist and his current smash hit, "Boys 'Round Here," is his fastest rising single to date.
"To a purist, Mr. Shelton is a savvy student of tradition. To a would-be outlaw, he's forever adding a wink. He's a star who is only as explicit as you want him to be," said Jon Caramanica, The New York Times. Shelton's passion for country music and his commitment to mentoring his teammates from "The Voice" make him an incredible ambassador for country music. Shelton kicks off his "Ten Times Crazier Tour" July 19 in Virginia Beach, Va. For additional dates, visit: www.BlakeShelton.com
With a busy year ahead, Usher is set to start production on the film "Hands of Stone" and continue working on his eighth studio album, in which he will continue to delve into his creative process through his songwriting and collaborations with other artists.
In "Hands of Stone," Usher will play boxer Sugar Ray Leonard. The film, which is a biopic of boxer Roberto Duran, is being shot in Panama and co-stars Edgar Ramirez and Robert De Niro.
Usher has been ranked by the Recording Industry Assn. of America as one of the best-selling artists in American music history, having sold over 44 million albums worldwide. He has won numerous awards including seven Grammy Awards and was named the #1 Hot 100 artist of the 2000s decade. Billboard named him the second most successful artist of the 2000s decade, with his career-propelling 2004 album "Confessions" being ranked as the top solo album of the 2000s decade. Usher has attained nine Hot 100 #1 hits (all as a lead artist) and 18 Hot 100 top-10 singles.
"The Voice" is a presentation of Mark Burnett's One Three Inc., Talpa Media USA Inc. and Warner Horizon Television. The series was created by John de Mol, who executive-produces along with Burnett, Audrey Morrissey, Stijn Bakkers and Lee Metzger.