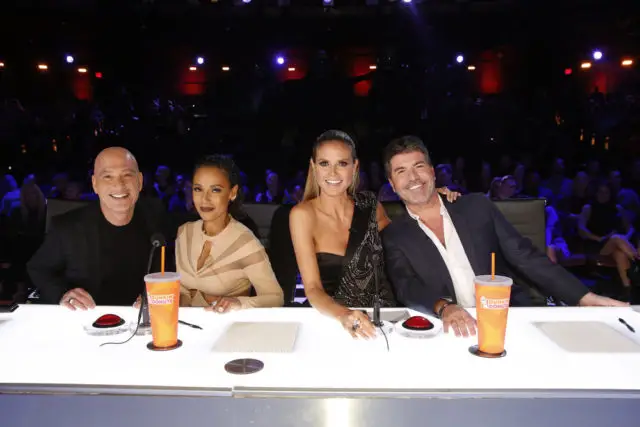 Mark your calendars reality fans! America's Got Talent is set to premiere on Tuesday May 30. Jennifer Lopez' World Of Dance will begin on May 8 after The Voice and move to Tuesdays on May 30. The idea is for the show to be bolstered by both The Voice and AGT throughout its run.
Simon Cowell, Mel B., Heidi Klum and Howie Mandel are returning to the judges panel. However, Nick Cannon has been replaced with Tyra Banks after a disagreement with NBC led the comedian to quit as host.
Check out the full NBC summer schedule below.
NBC has announced the rollout of their summer schedule that includes the premiere of new dance competition series World of Dance with judges Jennifer Lopez, Derek Hough, NE-YO and host/mentor Jenna Dewan Tatum; the return of the #1 show of summer, America's Got Talent, with new host Tyra Banks; and the network's obstacle course sensation, American Ninja Warrior.
Also joining NBC's alternative summer slate is the new series Little Big Shots: Forever Young, from the producers of the hit series Little Big Shots; the recently launched The Wall, back on a new night; and a second season of Spartan: Ultimate Team Challenge.
Scripted series set to premiere are Midnight, Texas, based on the New York Times best-selling book series by Charlaine Harris (author of the novels that inspired True Blood), and Marlon, a family comedy loosely inspired by the real life of star Marlon Wayans.
Returning for their third and fourth seasons, respectively, are critical fave The Carmichael Show and medical drama The Night Shift.
May 8
WORLD OF DANCE — MONDAY, MAY 8 FROM 10-11 PM (WITH THE VOICE AS ITS LEAD-IN); MOVES TO 10 PM TUESDAY, MAY 30 (WITH AMERICA'S GOT TALENT AS LEAD-IN)
Tuesday May 30
AMERICA'S GOT TALENT — TUESDAY, MAY 30 FROM 8-10 PM. (LIVE SHOWS BEGIN TUESDAY, AUG. 15 FROM 8-10 PM; LIVE RESULTS BEGIN WEDNESDAY, AUG. 16 FROM 8-9 PM.)
Wednesday May 31
THE CARMICHAEL SHOW —  9 PM

Monday June 12
AMERICAN NINJA WARRIOR —  8-10 PM
SPARTAN: ULTIMATE TEAM CHALLENGE –  10-11 PM
Wednesday June 21
LITTLE BIG SHOTS: FOREVER YOUNG —  8-9 PM
Thursday June 22
THE WALL — 8-9 PM
THE NIGHT SHIFT — 9-10 PM

Tuesday July 25
MIDNIGHT, TEXAS — 10-11 PM
Monday August 7
HOLLYWOOD GAME NIGHT — 10-11 PM
Thursday August 10
SATURDAY NIGHT LIVE: WEEKEND UPDATE — 9-9:30 PM
Wednesday August 16