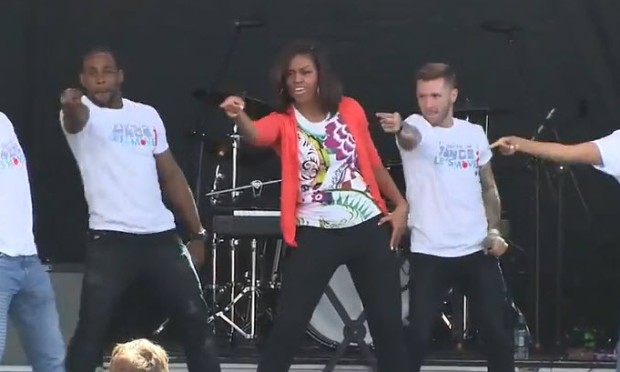 A few familiar faces joined President and First Lady Obama at Monday's (April 6) White House Easter Egg Roll. The So You Think You Can Dance all-stars performed a routine with Michelle Obama, choreographed to celebrate the 5 year anniversary of the First Lady's "Let's Move" initiative.
Travis Wall, tWitch and the gang danced to Bruno Mars and Mark Ronson's "Uptown Funk," while folks in the audience joined in the fun.  It's not the first time The First Lady and the All Stars danced together. The group had the opportunity  to preview the dance a few weeks ago with Ellen Degeneres on her afternoon talk show.
Also appearing at the Easter Egg Roll, were X Factor alums, Fifth Harmony, who sang a sweet version of Happy Birthday to help the Obamas celebrate 5 years of inspiring Americans to stay fit.