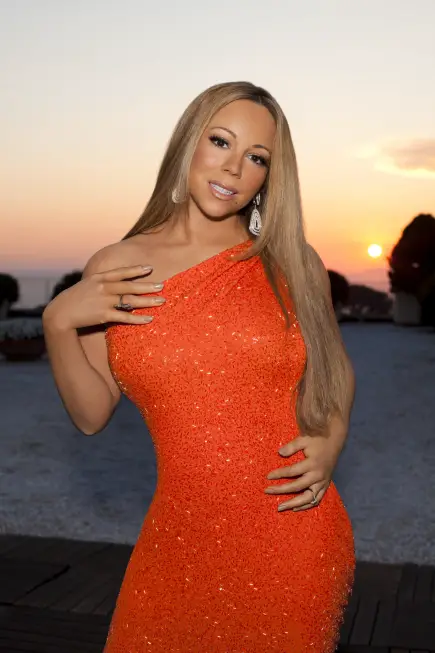 In honor of pop legend, Mariah Carey joining the American Idol judges panel I present to you her official FOX promo photo. That's an interesting pose, Mimi!
You can find a list of Mariah songs covered on American Idol over the years at the official website. The list is surprisingly short, especially if you consider that 7 of the songs were performed during a Mimi themed- and-mentored week in Season 7.
Her songs ARE hard to sing. Not only is it hard to find covers, but it's particularly difficult to find ones that were performed well.
Here are, in no particular order, five of those performances for your viewing pleasure:
Mimi told David Archuleta that she "wouldn't be mad" at him if he went up into his falsetto for two seconds. David felt she gave him some really helpful advice.
Mariah's "Hero" helped Danny Gokey advance to the Season 8 Top 13. He got a seal clap AND a standing ovation from Paula. She was so flummoxed she couldn't count her words. "YOU GIVE US ALL HOPE" screamed Kara.
The version of "When You Believe" from Season 9 finalist, Siobhan Magnus, was slammed by the judges–well, except by Ellen DeGenerous who never slammed anybody. Listening back, although the performance was shaky in spots, it had some interesting phrasing.
Randy Jackson put his seal of approval on Syesha Mercado's slightly pitchy performance of "Vanishing". The season 7 finalist put her own diva-fied spin on the song. Mentor Mariah had no doubt Syesha could make the song her own.
When Mariah Carey mentored the Season 7 Top 7, fans assumed that the boys would be at a disadvantage. But the performance of the night easily went to David Cook who turned Mimi's breezy ode to lost love into an angsty power ballad. "I thought he did something really different," Mimi said of David's version, "and it made me proud as a songwriter that it could stand the test of time."