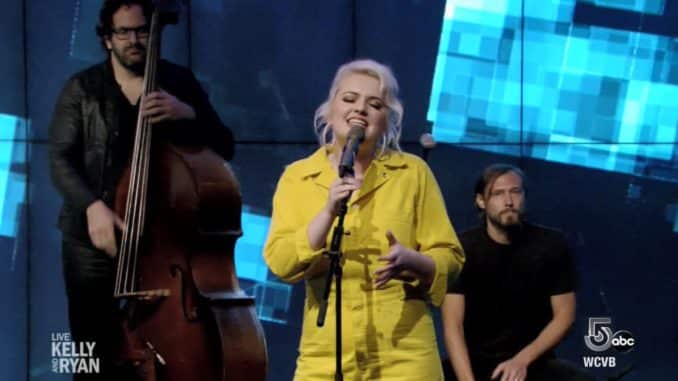 Watch Maddie Poppe perform her latest single "Made You Miss" from her latest album Whirlwind on Live with Kelly & Ryan.  It's the first time the American Idol 2018 winner has performed the song on a major network.
Maddie Poppe's "Whirlwind" Paints Personal Post American Idol Portrait
American Idol's Maddie Poppe Performs National Anthem at Dodger Stadium
Maddie has spent the summer on a radio station tour promoting the song. And the work is paying off. Currently, "Made You Miss" sits at No 21 with a bullet on the Billboard Adult Pop Songs chart, which means its receiving spins on Hot Adult Contemporary radio.
Watch Maddie Poppe perform "Made You Miss" on Live with Kelly & Ryan.
Bonus Video! While in New York City, Maddie sat down for an interview for the Build series.
In one anecdote, Maddie describes the magic of reality TV. When she initially received her golden ticket, Ryan Seacrest was not on the premises. But when he returned FIVE HOURS LATER, production asked Maddie to "act out" her Golden Ticket moment all over again.
After I left the room, Ryan Seacrest wasn't there, so they called me back over about five hours later, after the emotions like, I'm not on top of the world. They're like, 'Hey, we need you to act this out again. We need you to act like you just got this golden ticket because Ryan's back.'"

I came out, and this was my first time meeting Ryan Seacrest and they're like, 'Okay, fake it. Act like you just got this ticket.' I am so awkward, I can't fake that. I came out, and I just remember being so corny… My mom and dad were like, 'That was terrible, I hope they don't use that take.'
Another fun tidbit: Maddie wanted to audition in Nashville, but Idol producers asked her to fly to New York City instead. They wanted to showcase her audition on the premiere.
Watch Maddie Poppe's Build Series interview