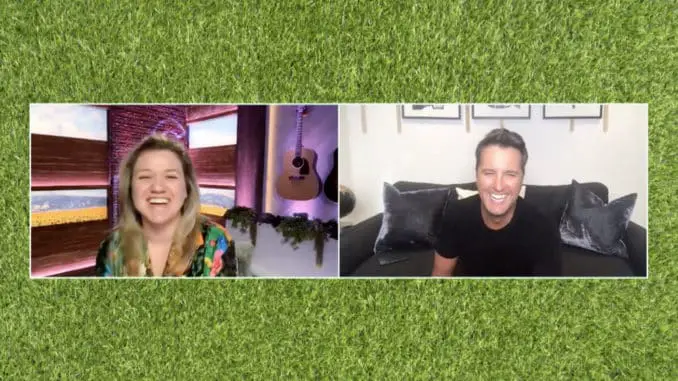 Luke Bryan dropped by The Kelly Clarkson Show earlier this week to chat about a bunch of things, including his new album, Born Here, Live Here, Die Here, how he's keeping busy in quarantine, and American Idol.
The country singer has yet to sign a deal for the upcoming season of of the singing show, but during his chat with Kelly Clarkson, it becomes obvious that he loves his job. 
American Idol 2021 Update: Will Luke Bryan Return to the Judges Table?
Of course, this season offered some big challenges, as the COVID-19 pandemic forced production from remote locations. Unfortunately, Luke was the weak link among his fellow judges Katy Perry, Lionel Richie and host Ryan Seacrest. Living in rural Tennessee meant Luke had a poor internet connection compared to his Los Angeles dwelling co-workers. 
Luke's internet connection was bad, he needed a satellite truck
"We set up big TV screens and monitors," Luke said of his remote setup. "But Lionel, Katie and Ryan, they live in LA. All of their internet is Fiber Optic internet." Luke added, "We used to think dial-up was fast! But…I live 25 minutes south of Nashville, and our internet was creating problems for the show." 
Luke describes an unfortunate scenario: "I felt so sorry. This dude in a satellite truck had to come out. He couldn't even come inside. He had to sleep in his truck. We had to get him a porta potty. It was just funny because we could not be around him. This was at the height of Covid. And so that was the only way we really ever got good internet connection."
But even with the challenges, Luke shared with Kelly how much he enjoyed his time on American Idol.
Idol is a "fun gig" said Luke
"The thing about Idol is it's just a fun gig," said Luke. "When you are part of being the first people to see a star being born…" Luke explained to Kelly, a star who was born on American Idol way back in 2002. Luke shared how he felt coming across Gabby Barrett on the radio. The country singer came in third on his first season as judge in 2018: "I was riding down the road listening to the radio and I'm listening to Gabby Barrett's second single. And obviously we know her first single was just massive. And I'm like–God I never will forget her walking in the room and I knew that she was just a world-class singer."
Luke claimed that everyone on set gets along. Between Luke, Lionel, Katy and Ryan there is "no drama" he said. "I'm not trying to be a bigger star than Katy Perry. And Lord, we know we will never be a bigger star than Lionel Richie. So everybody has their fun little role and we just focus on the kids."
Kelly Clarkson agrees: It's all about the artists
As a coach of The Voice for several seasons, Kelly can relate. "I've worked with John Legend on a couple different… singing competition shows. And and one thing I love…is we both just love music. She added, "But we're like that to0. We feed off of each other a lot–obviously with Blake [Shelton] and Gwen [Stefani] from this season." (Kelly and John, along with The Masked Singer judge Robin Thicke and country singer Jennifer Nettles judged the 2012 ABC singing competition, Duets.)
"You and Katie and Lionel are are already established," Kelly observed. "You've already done so many things, you're already excited and you make it about these artists, instead of yourself. I think that's when you win inevitably and that's really cool."
Check out Luke Bryan's full interview with Kelly Clarkson below.