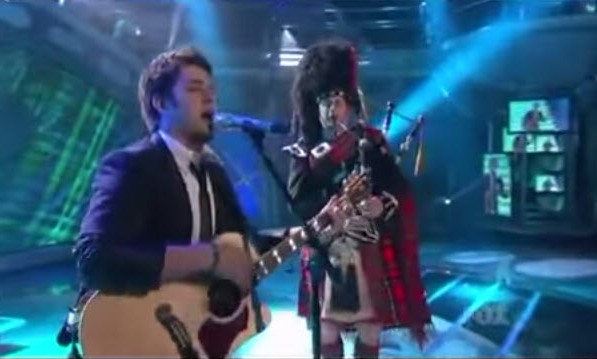 Lee Dewyze posted a shoutout to his fans today on twitter. Five years ago, the singer/songwriter won Season 9 of American Idol. Wow! And no matter what anybody says about his post-Idol success, Lee is grateful for the journey and excited for the future.
Well, five years ago today I won @AmericanIdol. I just want to thank all of you for your continued support, love, and for helping spread my music over the years. I truly see where I'm at now in my career, as the tip of the iceberg if you will, just the beginning. And I have so much more musically to give and am so incredibly dedicated to making the music that I know I'm capable of making that I can't ever have imagined 5 years ago…that I would be here, and only God knows where I will be in 5 years from now. However one thing will always remain the same. My love for music, performing, writing, and of course my incredible fans. Thanks for the past 5 years. And here's to the next. Thank you guys! #FamiLee. Oh, & thanks @AmericanIdol,without you? I probably would have never met the love of my life. Good looking out! @jonnawalsh #SweetSerendipity
To help celebrate, here are a few of Lee's best American Idol performances.
The Letter
Lee sang the Joe Cocker version of The Letter for Top 11 Billboard #1 Hits week.
Hey Jude
For Lennon/McCartney week, Top 9, Lee performed an UNFORGETTABLE rendition of Hey Jude. I mean. Who could forget the bagpipes. THE BAGPIPES PEOPLE.
The Boxer
Lee performed "The Boxer" for inspirational week and Idol Gives Back. Alicia Keys was the mentor that week.
https://youtu.be/Z3gOJTpHcsw
That's Life
Remember when Idol judge, Harry Connick Jr mentored the season 9 contestants? Lee performed Frank Sinatra's "That's Life" to raves from the judges.
https://youtu.be/z60y9naC8ts
Lee Wins American Idol and performs his winner's single, U2's "Beautiful Day."