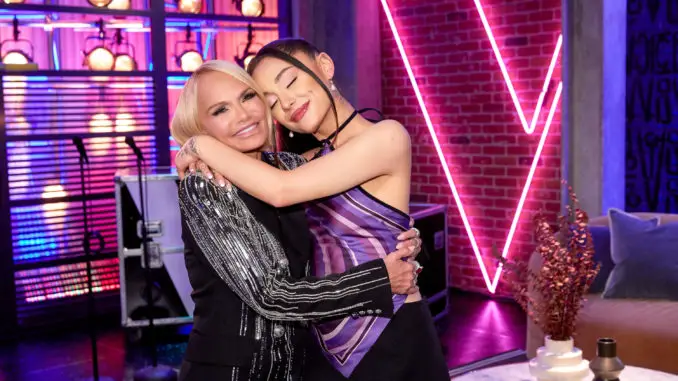 Kristin Chenoweth reveals that she regrets not suing CBS after her injuries while filming The Good Wife in 2012 following a serious accident.
The Broadway star described the on-set incident in her new book, I'm No Philosopher, But I Got Thoughts. During an appearance on Watch What Happens Live with host Andy Cohen, he asked her if anyone from the network contacted her after she released the book.
She said no, and lamented that the wished she had pursued legal action against the network.  "I didn't do it out of fear and anxiety, so don't ever let fear rule your life," Kristin said. "I have long-standing injuries from that. I wished I had listened to my dad, who said, 'You're gonna wanna do this.' And we're not the suing family, but when you're practically killed…" 
She joined The Good Wife in 2012 in a recurring role for Season 4. While filming an episode on-location for the series, she was struck by a piece of lighting equipment and was hospitalized.
"I heard, like, a flagpole sound. I literally heard, 'We're losing the light.' I heard, 'Action.' And I woke up at Bellevue [Hospital]," she recalled. "It hit me in the face and it threw me into a curb. Seven-inch skull fracture, hairline [fracture], and teeth and ribs."
Kristin's doctor said hair extensions saved her life
The injuries were so severe, she couldn't complete her story line on the primetime drama and did not return to the show after she recovered. Oddly, she credits her hair extensions for saving her life.
"My hair extensions, you know, made the hairline fracture go together. My doctor said, 'What are these metal things?' And I said, 'They're hair extensions.' And he said, 'They saved your life,'" she added. "So, anyone who wants to get hair extensions should, for your health."
Besides originating the Tony winning role of Glinda the Good Witch in the Broadway musical Wicked, among other roles on TV (Pushing Daisies, The West Wing), she recurred memorably on Glee as the drunken former Broadway star April Rhodes. She also served as a guest judge on American Idol season 9 during the judges auditions. And she helped Ariana Grande coach her team through the Battles on The Voice season 21.
Shortly after her The Voice stint news broke that Ariana, whom Kristin met as a child, was cast to play Glinda in the upcoming movie adaption of the well-loved musical. "I'm not sure if I've ever been this proud," Kristin wrote on Instagram after the news broke. "From the very first day I met you…you were destined for this role. Congratulations @arianagrande! …I love you!!"