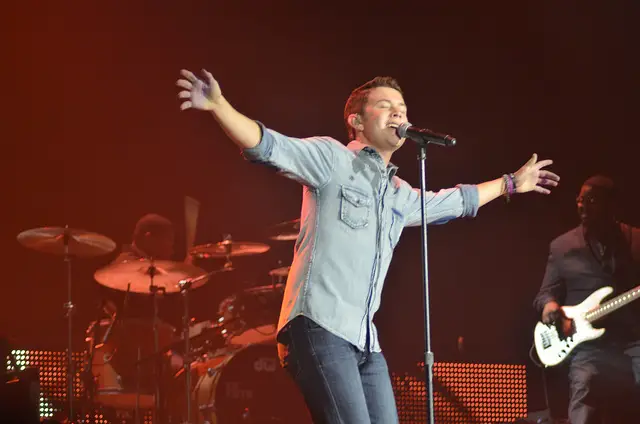 Tour thread HERE.
WooHoo! Another year, another Idol tour, another year of epic cheese! I love these crazy concerts.
This year, the concert I attended was at that Everett Comcast Arena. Everett is really nice even though I somehow managed to get lost three times. But I got free parking, so WOO! Usually, when I attend a concert in Seattle, it is at the Tacoma Dome which is a barn. Acoustics suck, seating sucks, everything sucks. So, I was happy that it was in the much more pleasant Comcast. This is a smaller venue though, but it sold completely out which has never happened at the Dome. And the staff are super-friendly. At the Tacoma Dome, it's kind of like being in a gulag. The staff aren't happy to be there so they are going to try to make sure that you aren't either. Here, the staff were extremely friendly, raved about the concert and didn't bother any of the people who were busy filming everything.
First up was "Born This Way" girls group number. The girls looked fantastic all dressed in white and sounded fab too. But, it was the oddest opening to an Idol concert I have ever seen. I always try to get seats near the front of the floor section because that's where all the diehards are. These people are energetic, excited to be there and ready to stand up for anything. They went the extra mile to make sure they are where the action is. They are there to PAR-TY. As soon as the Idol theme music starts, the front section (and maybe everybody, I don't know, I'm too busy watching the concert to know what people behind row 10 are doing) leap to there feet squealing. Everybody from Mandisa to Michael Sarver gets an enthusiastic reaction to their first performance. Last night, everybody stayed firmly planted in their seat. I was kind of stunned. Maybe it was the lack of the Idol theme music. Maybe it's the VIP thing (many near the front bothey save their energy for when they meet the Idols face-to-face?). Maybe Everett is totally chill. IDK. I do know the crowd has more energy at the start of school recitals and my company's skit night.
Next up, Pia sang "Empire State of Mind". I have to say that Pia's backdrop was the best of the night. That NY motif that they went with really set the tone. It's kind of like how a really artistic person can throw down a few lines on a piece of paper and completely capture the essence of the entity they are drawing (meanwhile I can spend hours tweaking a drawing and it just looks like a deformed something or other). I think this is one of the best Idol tour sets they have ever had. The sets are always sparse, but all the video screens are used so effectively that the stage doesn't feel empty. The levels give people a chance to be dynamic and the little wharf into the audience allows the Idols to interact. While I was contemplating this and learning how to use my new camera, Pia continued to sing, but it didn't distract me very much. People cheered a little for the glory notes and applauded politely at the end.
Stefano joined Pia on stage to sing "California King Bed". This song wasn't originally a duet, but these two harmonized well. This song really worked. I think Pia does much better when she has somebody else to interact with on stage. It gives her something to do. Stefano was emoting for all he was worth the entire song. This is Stefano's home crowd (he is from the Seattle area) and they were squeals when he came on stage. He is just so earnest.
Then, the concert finally started. As soon as Paul shouted from off-stage, electricity pulsed through the crowd as did a cheer. At last, there was evidence that the people in the front section were not, in fact, glued to their seats as people leapt up in excitement. "Maggie May" isn't the most energetic of songs, but Paul raised the energy level in the room ten-thousand-million-percent (as Randy would say). He connected with the audience, he did his Paul dance, he sang well. Although, I did feel a little sorry for the guys videotaping for the jumbotrons. They were running around in the little fenced area between the stage and the crowd like gerbils on speed. They would start to run one way to cover Paul and he would deke the other way so they too would have to rapidly change direction. Paul is always such a happy performer and his joy infected the audience. It's a good thing he sang one of his lower key numbers because if he'd sung "Folsom Prison Blues" the crowd would have torn the place down.
Thia was given the unenvious job of following that performance. But, the crowd was now in the mood to party, so many in my section stayed standing for her. I always thought Thia was a little bland on Idol, but she did a much better job here of connecting with the audience. She always has such beautiful tone and she herself is beautiful too. She did an excellent job of singing "Who Says". The song was a bit slow, but it was a nice change of pace. Thia still has some pageanty movements, but I suspect that will greatly improve over the course of the tour. Throughout the night, she did a lot of back-up singing and she is really good at harmonizing. She always interacted well with the primary singer, but you could tell that her and Lauren are best buds (they are always smiling at each other – it was sweet to see).
Pia, Thia, Haley and Naima then sang "Tightrope". This would have been a much better song to open the night with. "Born This Way" seems like it should be an anthem to power up the crowd, but it just doesn't seem to do its job. I don't know if it's because it's too wordy or it doesn't build quite right, but the song just doesn't open the concert well. The women had so much fun with "Tightrope" and when they are having fun, the audience is too. They sounded great as well. I should just stop saying that because nobody sounded bad last night. I don't know if the sound techs are better on the Idol tour than on Idol itself or if everybody is just so much more relaxed on tour. One thing for sure…all these contestants know how to SING (which hasn't been true every year). So, from now own, assume they sounded great even if I don't write it.
The stage goes dark and stage hands quickly fly out and place a piano for Stefano before scurrying back behind the scenes. I have to say that they really do a good job of keeping this concert moving. Stefano appears bathed in red light and looking a little devilish. The oft sung song from the Hollywood rounds makes an apperance as he sings "Grenade". As I said earlier, the dude is earnest and does an excellent job of convincing the audience that he would throw himself on a grenade for that heartless wench. Dude was all over the stage. He was pouring his heart stage left, opening a virtual vein stage right and on his knees in all his emotive glory center stage. All of this could have been too cheesy, but it just worked. The crowd was totally engaged.
Every year, there is somebody who surprises me on tour and this year it is Stefano. On TV he seemed a little disconnected from the audience and his press tour made him look like a raging egomaniac. But he delivers on stage, his voice is really smooth and I now have a much better opinion of him.
He follows up "Grenade" with "DJ Got Us Falling in Love". This is advertised as a group number, but it's really a Stefano number with some of the women providing back-up. Stefano transforms from an emotional boyfriend in a bad relationship to a hot club dude who is going to tear this MF down. His energy level is off the charts and the women's vocals and dancing adds to the performance. How he manages to keep singing so well while bounding around the stage, I do not know. I think he would be taken more seriously if he didn't take off his shirt and by that point, he doesn't need to do it. He already has the crowd in the palm of his hand already (and the shirt thing pushes the cheese factor too much)
Suddenly, Paul is back at stage left and the crowd energy amps even higher. Then, James Durbin enters and things get crazier. Casey comes in stage center and the crowd is going insane. Stefano finds a shirt in the back and joins the guys on stage increasing the crowd's excitement. At some point Jacob arrives, but by that time the crowd is in such a frenzy, it can't get more intense. They are singing "Animal" and having a blast doing it. The choreography is a mess, but who cares? This is so much fun. They guys are enjoying themselves so much and bouncing around. The crowd is dancing, the crowd is singing, the crowd is nuts  – old people, young people, drunk people, security people. Woo!
Before the crowd can catch it's breath, Naima appears to sing JLo's big single "On the Floor". The crowd loves that too. Naima is a blur on stage. She's here, she's there, she's doing an African dance. Again, how can she sing with all that dancing? She must be doing cardio. I can't get a decent photo of her between all her movement and the crowd waving arms all over the place and dancing along. Naima looks gorgeous tonight. If this singing thing doesn't work out for her, she should be a model. She's got the exotic look that brings gorgeous to another level.
Then Pia comes back and the crowd deflates. Literally, everybody glides down to their seats like a balloon losing its air. Pia is dressed in her 80s cocktail dress, so we all know it's time for another snoozy song. You can practically hear the Idol Tour Camera dudes give a huge sigh of relief. While the last number of acts have had them scrambling about trying to get shots as Idols careen unpredictably around the stage, Pia gives them a chance to catch their breath. Not only does she barely move, but she repeats exactly the same movements she did in SLC (no love for my side of the stage). This also gives me time to contemplate. It reminded me very much of what Quentin Tarantino once said to Diana Degarmo when he was a guest judge in Season 3. He told her that she hits all the notes, but so what? There is nothing there. It's like she's behind glass. There is no emotion. Diana took his advice to heart and greatly improved. Pia needs to run into Quentin. Pia does not engage the audience at all. It's like she's in a glass cage completely unware of the audience. Her movements are measured. Her singing is lifeless. She does not appear to see the audience at all. She needs to lose herself in the song while building a relationship with the audience. I wish Pia would try a number where she comes out dressed in t-shirt and jeans and her hair in a pony-tail where she sings a song that is just plain fun. Forget looking like a beauty queen, forget moving just right, forget the glory notes, and most of all, forget those ridiculous high heels. Just enjoy the crap out of singing and the audience will enjoy it too.
And this brings me to a point on the stylists. I want to borrow Lauren's boots and give them a firm kick up the rear. Why are the girls wearing cocktail dresses and ball gowns in almost every performance (except when they are wearing those red suits)? Some of those dresses are kind of skimpy to really go crazy in and the heels are far too high. Lauren is the only one consistently dressed to let loose and I think it's because she put her foot down. The audience is enjoying the performances from the boys even though they are dressed ultra-casual (well, Jacob has a suit). Nobody seems upset about the fact that they aren't trotting around and tuxes and other uncomfortable outfits. These women are massively talented and don't need to be dressed up this way. In Season 5 and 6 the girls weren't required to dress up so much (and in Season 8, Megan eventually told the stylists to get stuffed). Even Kat ran around stage in her bare feet and kept up the crowd's energy even while singing ballads.
Finally, Pia finishes her song and the stage hands rush out in the dark with Casey's bass. The crowd finds its energy again. I can now understand why the judges didn't call Casey on all his shenanigans on Idol. All his faces and stomping around the stage totally work live. When the television camera is shoved in his face and he appears like an angry, bearded troll doll learing into your living room, it doesn't work. But, live, with a little bit of distance, it's wicked. Casey started with "Smooth" and getting down with his bass (he even spins it at one point) and then suddenly, the unseen stage hands recover his bass as Casey starts storming around the stage. The crowd loves it and wants more. I don't know if my camera has something against beards or the guy isn't motionless for even a fraction of a second, but I'm unable to get a picture of him that isn't a blur.
Casey then starts to sing "Moanin'" and the crowd gives a gasp and then a cheer. They can hardly wait for Haley to come out. Although these two are fantastic and interact well with each other, I find Idol moments hard to repeat. The original version on the show was such a delightful surprise, that it is hard to live up to. It was fantastic, but it didn't live up to my own hype.
Casey sits down on the stage and starts telling us all this dancing makes it harder to breath as a segue into "Harder to Breath". What can I say, Casey is just as good as his first number and ends his performance with panache. You know, it's not really true that the Idols aren't doing mini-concerts. Most of them are. Thia, Paul and Naima only get a one song set while Pia and Lauren sing one of those solos apart from their sets (and people pop in for duets), but we are really getting sets from these people with the odd group number popping up here and there.
Speaking of Lauren, here she is to sing "Fireworks". I thought she sounded rough when singing this song on the youtubes from SLC, but she sounded much better in Everett. She's still not at 100%, though, so she should still be careful. Lauren is just a little firecracker on stage. Wow. Can she really work the crowd. She has a Megawatt smile and looks so pretty. I hate this song with the heat of a thousand fireworks, but Lauren does the impossible and makes me like it. The way she jumps with excitement when she gets to the chorus is adorable. Pia and Thia join Lauren to finish the song.
The first act of the concert finishes off with "Forget You". This is such an awesome song that whoever sings it sounds good. The crowd is thrilled from the opening chords. The Idols (sans Scotty) comes out dressed in red suits and they have some cheesy choreography to do. Jacob, as always, commits 200% to the choreography and  how can you not love that? Stefano is probably the next most earnest about choreography with a soupçon of cheesy flirty thrown in for good measure. James has fun with it and Paul is just hopeless. Haley works it. The number is a complete blast. LOL. The crowd loves it. Casey is just hilarious.  What a great ender. Full credit to the Idols and whoever picked this number.
It's time for a break and for people to discuss the show. The buzz is extremely positive, but many people around me are worried because there have not seen anything of Scotty. That's the problem with this format. They've seen everybody else by now, so people are confused about why no Scotty. The tweens seem the most distressed (although, a man nearby is fretting too). During the break, we see a lot of commercials. TPTB have come up with an effective way to get us to watch the Ford commercials by having us vote on our favourite out of 3. During the intermission, they announce the winner. The crowd is happy that the Zombie commercial wins and we get to hear "Animal" again as the commercial rolls (I suspect that they only filmed one version of the Idols announcing the winner, because Zombie is going to win all the time. I guess now it makes sense why they spent so much time and energy making that commercial if they were planning on this "contest" all along (voting puts you in a draw to win backstage passes)). They also play videos from past Idols. From the intermission and before the show, they played Cook's TLG video twice, Carrie's "Undo It" twice and Kris's LLWD once. Things that make you go hmmm….
The audience doesn't get much warning before the big screens start playing Lauren's intro, so people are left scrambling to their seats. The crowd yells their approval when the opening strains of "Flat on the Floor" begins playing. Lauren brings the right amount of sass and the crowd enjoys her performance. She does a little bridge where she talks about Idol and people shout out how much they love her. She has a lot of fans. This recap is far too long already and I've already covered how great she is, so I'll try to keep it short. Every song that Lauren sings goes over extremely well, she really has star power, she is so good at working the audience and she is a heck a lot of fun to see performing live. Thia, Stefano and Haley sit on stools and sing back-up for "If I Die Young" (gosh, has Lauren got a good voice!) and there is a little moment where Lauren hugs Haley that is just so sweet. Ugh! I'm turning into one of those reviewers who loves everybody (well almost).
The band then starts playing a song that is clearly intended for James and the crowd starts searching the stage for him. He yells at us to stand up and we all comply. Eventually, the fact that the Idol Camera Dudes are pointing their cameras out into the audience clues us on the floor in to turning around. He's entering the concert from the back. The crowd bounces on their feet trying to spot him, but he's lost amongst the audience. As the spotlight turns one way, a ripple of excitement goes through the crowd nearby as we realize that he's going to come down our aisle. People go nuts. It's like Elvis suddenly came to life and appeared (and was handing out free ice cream!). James is non-stop energy for both of his performances. Who cares what he sings? I am a known hater of screamers, but even I love it. There he is playing stupid air guitar with Tim. Here is he doing his standard split jump. He even waves his idiotic scarf to the crowd. I hate all of this crap so why did I enjoy it so much live? I think there is more than fog in that stuff they keep pumping on stage. That's my excuse and I'm sticking it.
Poor Jacob has the task of following that up. The dude is clearly not a fan favourite of many in this audience. A girl near me leaps up and gives him a thumbs down and a boo. Thankfully, her mother admonishes her. I swear, at first,   you can see the trepidation in Jacob's face at the crowd's reaction (people sitting down). But, does this stop him? No, it does not. Jacob digs in and wins back the audience one person at a time. He starts with the woman who is dancing and jamming to his song. Then he moves to the sides. He works on every person so that he gets wild applause at the end. Then he starts his next number and it doesn't look promising because he is at a mic stand. Will he lose the audience again? The mic stand is soon abandoned and he takes us all to church. He just throws that song down and then picks it up and wrings every ounce of it. At one point, he even falls his knees. Many in the audience are back on their feet. Even the booing tween is completely won over by the end and leaps to her feet to applaud. I have a lot of respect for Jacob after that.
Haley comes out and the crowd gives her a great welcome. Remember where I said before that it is difficult to repeat an Idol moment? That the surprise is gone and it's hard to live up to the hype? Well, let me just tell you that Haley more than lived up to the hype with "House of the Rising Sun". That was breath-taking. Her vocals are just so amazing. It's unreal. The crowd is so still while listening to her. To catch every nuance (although, they do throw in "Woos" at the end of phrases). Then the band kicks in and she continues to be stunning. She far surpassed her Idol moment. If you like Haley, this performance alone is worth attending the concert for. Unbelievable! And now I feel bad because I've hyped the song so much that everyone who sees it will say it didn't live up to the hype. Don't think that for a minute. It's just that good.
She then reprises "Benny and the Jets" and I've heard it too many times. Sure, she gives it a fantastic sultry edge. Sure, she's spot on. But, I'm greedy. I wanted to hear something new. Don't get me wrong, she was amazeballs. I'm just like Oliver and I want more (Nigel will soon be throwing me down a staircase without any banister and feeding me cockroaches served in a canister).
The crowd is relieved that they finally get to see Scotty. The show ramps up the excitement by playing the announcements for all the previous Idol winners (you can tell who this crowd likes as they cheer or don't cheer for each winner). They tease us by not saying Scotty's name at first (giving us all sorts of little clips) and then they say Scotty and the crowd goes bananas. Then the opening strains to "Your Man" starts. Really? That's not quite the song to transition into. I love getting to hear Scotty sing the full version of that song, but you can't build up the excitement to that level and start with that song. It's too-low key. Better have started with "Gone" or something new (yes, I want some new songs! I'm suffer from entitlement issues. Live with it Idol PTB). But, we are soon past that little hiccup because Scotty is fantastic. The kid just has a total "It" factor. He's ridiculously charming on stage. Sometimes, "he looks a little goofy", but that's just part of his charm.  He sounds wonderful. He knows just what to do to connect with the audience. He can make the tweens squeal with a look or a finger point or a mini-wave of his hand (although, I suspect it's just not tweens squealing).
Interestingly enough, for such a talented bunch of musicians. We don't get a lot of instruments. Even in days of yore when they didn't let people play instruments on the show, we probably saw more instruments on tour. The instruments make an appearance only three times this year: Stefano's piano, Casey's bass and Scotty with the guitar for "Are You Going to Kiss Me or Not". Scotty is the only one who plays his instrument for the entire song (Stefano and Casey both leave their instruments after the first chorus to work the stage). The instruments were used well in previous tours, so I wonder why the change. I do do all this wondering right now, though, because while Scotty was performing the song he had  my attention. He displays his story telling ability with this song and the crowd loves it (I need a short-cut key for that phrase).
He does his arm-wide-open thing for "I Love You This Big" (after doing a brief intro and selling job for the song) and it generates squeals from the audience. I do not know how he gets away with this kind of cheesy stuff, but he does. Since I love velveeta, I love it (this big) too. Lauren joins him on stage for a duet with "When You Say Nothing At All" and Scotty has been working on sustaining his notes. He hits some really nice sustained notes in his upper register (which is just a normal register for most). This is a really lovely number. Sometimes, Scotty doesn't know what to do with himself when Lauren is singing (pssst…Scotty, do what Lauren does when you sing. Pretend that she is singing a love song to you), but he's a teen boy whose tired of being asked questions about a non-existent relationship, so I can't really blame him. When it's his turn to sing he sells it and he is really sweet when he takes her hand and walks her down the steps. Both of them have voices with such pleasing tones and they duet so well together.
Scotty finishes strong with "Gone" and the crowd sings along with the "Bang-bangs". He makes good use of the stage and the girls work it as background singers. Everybody is having a blast on stage. That's a really great number for him.
I guess they are right to finish with "Gone" because the energy flows so well into the closing medley. What can one say about it? These medleys are the opportunity for everybody to let loose and go wild and this they certainly do. So much is going on stage that it's difficult to know where to look. Does one watch Durbin dashing about the stage with elan? Scotty and Casey doing a psycho face-to-face chicken dance? Naima and Jacob busting moves? Lauren and Paul interacting? There is something for everyone and too much for one person to drink in. The last song seems to end, they run off stage and then the voice of Steven Tyler introduces each of them. Everybody comes out with flair, but nobody more than James Durbin who comes out wearing a Mexican wrestling mask. LOL.
Sum it up: Fantastic show well worth the price of admission.