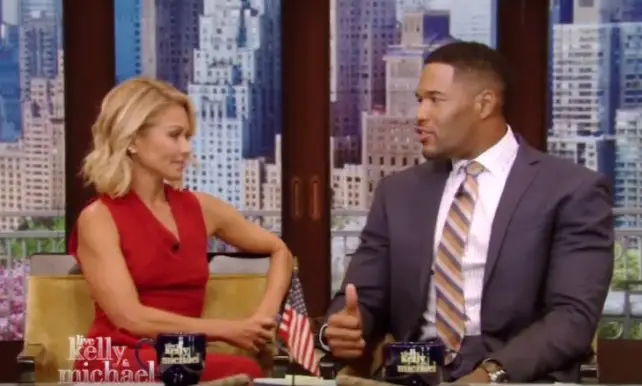 Kelly Ripa returned to Live with Kelly and Michael this morning after taking an extended break. The Live host took time off in protest of her bosses at ABC leaving her out of the loop before they announced the departure of her partner of four years, Michael Strahan, for a post at Good Morning America.
The co-host spent the first minutes of the show, center stage, addressing the controversy. Once she explained herself, she finally took a seat next to Michael. Maybe it's me, but I thought her body language spoke volumes. It's going to be an interesting next couple of months.
After a huge standing ovation from the audience, Kelly quipped, "Our long national nightmare is over."
"What transpired over the course of a few days has been extraordinary," said Kelly, "in the sense that it started a much greater conversation about communication, and consideration, and most importantly, respect in the workplace."
Kelly continued: "Apologies have been made. The best thing to come out of all of this is that our parent company has assured me that Live is a priority. There is a commitment to this show, and that the people who work here–most importantly to you the viewers who have watch us every day for 30 years."
"I am thrilled for Michael," Kelly said. "This is a tremendous opportunity. I couldn't be, and we couldn't be prouder of you, and everything we accomplished together."
CNN quoted sources that said a personal apology from ABC bosses for the way she was told the news brought her back to the show. Apologies were also extended to Michael and both of their agents.
Check out the full video below.
https://youtu.be/xuqktYAMVHA