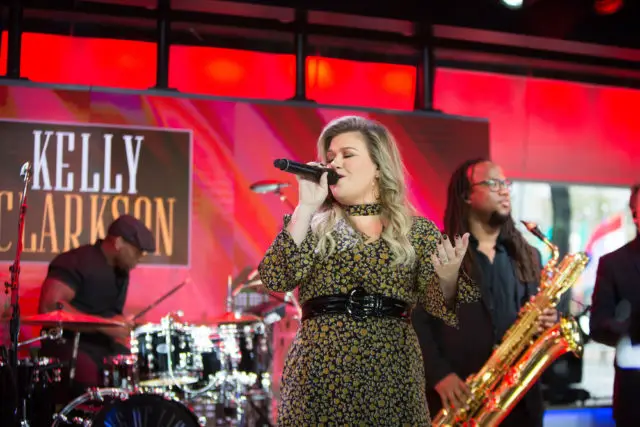 Kelly Clarkson has been all over the media the past week promoting her eighth album, Meaning of Life. Here's what the American Idol OG winner has been up to recently. Watch for Kelly tonight on The Voice as she helps contestants get ready to compete in the Knockouts. The singer will take a seat on The Voice coaches panel when season 14 premieres in the spring.
On Ellen, Kelly chatted with the host about deciding to be a new coach on "The Voice" instead of "American Idol." She also talked about her family, and her new children's book, "River Rose and the Magical Christmas."
Let's keep it real," Kelly says. "I thought [Idol] was ending. I'd already been in talks with The Voice. Her husband and manager Brandon Blackstock also manages coach Blake Shelton. Joining The Voice was just a no brainer.
And Kelly added, "and I gave them fifteen years! I was there every season!"
Kelly also performed "Love So Soft."
On the Today show Monday (Oct 30) Kelly visited Kathie Lee and Hoda to talk about her new album, "Meaning of Life," saying it was inspired by the "soulful pop" she grew up listening to. She also talks her new children's book, "River Rose and the Magical Christmas," inspired by her daughter, the real-life River Rose.
Kelly performed two songs on Today. "Love So Soft."
https://www.youtube.com/watch?v=qJ-UCQwddvs
And the new album title track, "Meaning of Life."
https://www.youtube.com/watch?v=pNd5eAenT0k
Kelly performed at an album release party for iHeartRadio in Los Angeles on Oct 27. In the video below, she shared about what it's like to work with a new label, Atlantic Records, her inspirations behind 'Meaning of Life', and what else is coming from her this year.
About joining The Voice rather than American Idol, Kelly said, "We were already in discussions [with The Voice]. It's a really cool thing for my family. Idol you have to travel around. The Voice is all in one place."
Also, Kelly said that when news leaked that she was about to sign with American Idol, "I hadn't even had a conversation when I saw it in the news."
In an interview with US backstage at the IHeart event, Kelly said she'll be a mixture between Simon Cowell and Blake Shelton when finally sits in that big red chair on The Voice.
"I feel like I'm a mix of Simon and Blake. I'm constructive because it would be impossible for me not to be, if you know my mother. I grew up with constructive criticism. And it made me a better human … I'm just saying I think that I'm incapable of not giving criticism constructively. So I think that's like Simon."

"But I love how Blake always really invests in his artists. Like he really goes the extra mile after the show, even if they don't win. He really supports them and gets them other record deals and gets things moving," the "Piece by Piece" singer continued. "That really says a lot about his character. I hope I'm like that."
Kelly has already taped the season 14 Blind Auditions, and she told Entertainment Tonight:
"I got to steal," Clarkson told ET's Kevin Frazier about fighting for the most promising contestants during the blind auditions of The Voice.

"It was surprising just seeing who all people would pick in the blind auditions," she said. "Literally, it is hard to get people sometimes because they are so set on, like, 'No, indie goes to Adam and country goes to Blake.'"

"But I will say Alicia and I, especially Alicia, did really well stealing from them," she added.
"Steal" in the Blind Auditions? Does she mean that literally? Because steals don't begin until the Battle Rounds. Unless the show has introduced a new twist…
And Kelly shared with ABC News Radio, her biggest challenge working as Key Advisor for season 13:
"I think that's my hardest thing about doing this, is, you know, letting other people talk," she laughs. "It's like, yeah, I get really excited."

But overall, Kelly explains, "I was excited to be key advisor on The Voice just because I'm doing next season, so I was kinda warming up the chair, I was pressing the button. I'm very excited about it so it's fun to kinda come and have a little rehearsal for it."