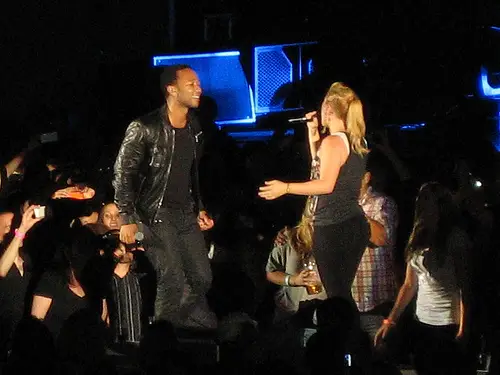 Photo: WeHoScott
Kelly Clarkson performed last night at the famed Hollywood Bowl in Los Angeles last night. As one might expect, a few special guests dropped by!
She performed  the Ray Charles classic, "You Don't Know Me" with fellow Duets judge John Legend, who also stood in for Jason Aldean to sing "Don't You Wanna Stay."
Also, she invited her Duets partner, Jason Farol, to sing Duffy's "Mercy."
A couple of American Idol alums were in the audience, including Season 7's Michael Johns who tweeted, "Watching Kelly Clarkson at Hollywood bowl killing it! She is a power house" Season 10 Idol, Pia Toscano, was spotted in the audience too.
Check out the performances below.
Kelly and John Legend – You Don't Know Me
Kelly and John Legend – Don't You Wanna Stay
Kelly and Jason Farol – Mercy