As The Kelly Clarkson Show premieres on Monday September 19 in a new timeslot–the 4pm hour previously occupied by The Ellen Degeneres Show–Variety features the multi-hyphenate talent on their cover this week.
Kelly Clarkson taped her first week of shows in New York City, then went on to promote the show via her "Kellyoke" tour bus in Chicago, Dallas and Los Angeles. She'll open the new season with a cover of Mary J. Blige's "Just Fine" and will welcome guests Hillary and Chelsea Clinton and more. The new season will also see first lady Jill Biden, Scarlett Johansson, Blake Shelton, Gwen Stefani and Rosie O'Donnell in studio.
In the interview, Kelly announces she'll drop a new album in 2023 and is planning to tour. Also, she HOPES to return to The Voice's coaches panel, but Variety couldn't pin her down on that one! She will receive a star on the Hollywood Walk of Fame on the 19th, coinciding with the talk show's premiere. Reportedly, Simon Cowell will be on hand to introduce her.
Here are a few excerpts from the interview:
Kelly has recorded her next album and will release it in 2023.
So I'm working on my album this week. It's coming out next year. And this is an important album. I'm working on this in therapy: I have a hard time vocalizing what I'm feeling sometimes, so music is helpful for me. It's just been really healing. I recorded the record quite some time ago.
The songs delve into her highly public divorce from Brandon Blackstock
When my ex and I first separated, there were many emotions. It was hard. My producer and I were laughing yesterday because I was like, "Remember that time we wrote, like, 25 songs in a week?" A lot of those are the ones that are on the album. I literally wrote most of these almost two years ago. Then I told my label, "I can't talk about this until I've gone through it," and it's just taken some time to do that. That's one of the reasons we've done a lot of Christmas stuff the past two years — because I was like, "Well, that's happy!"
So some of the songs, they definitely cover the gamut of emotions; there's everything on the album. It's almost like the arc of a relationship, because the beginning is so beautiful and so sweet, and then it evolves. And sometimes it doesn't evolve how you want.
Kelly will find a way to squeeze in a tour
I definitely am going to do shows. We're figuring that out. I sing almost every day because of the show, even though it's always other people's music. So I feel like I'm checking that box. But when you write an album that's so personal, it's just therapeutic to be able to get up there.
The only way it fits in is summer. At this point in my career, the way I'm going to do it may not be the norm, but I'm going do it anyway.
Kelly believes there is room for all the talk show hosts, including Jennifer Hudson, who premieres her new show on the same day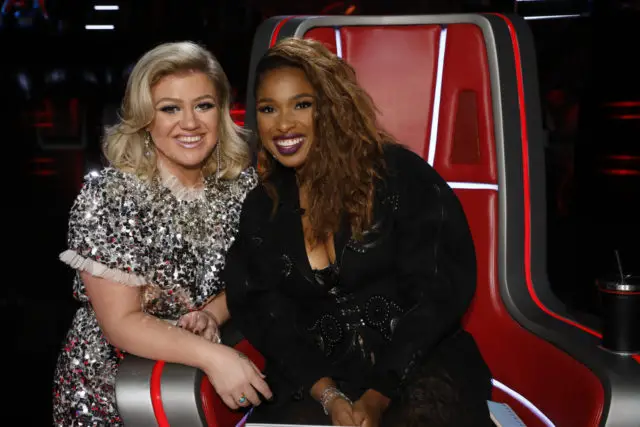 "And I'm so excited for Jennifer Hudson. Who would have thought two girls from "Idol" would be doing this type of thing? There's room for everyone. I just wanted to say that, because I don't like how people pit us against each other. I want to be sure that everyone knows that we are supportive of each other. We are all so different, and daytime is an amazing platform for all of us to bring something positive into the world."
Kelly hopes to return to The Voice 
I stepped down on "The Voice" this season, because I just needed the space. I definitely … [Laughs] Um, I probably will be back at "The Voice" at some point. I might be back at "The Voice."