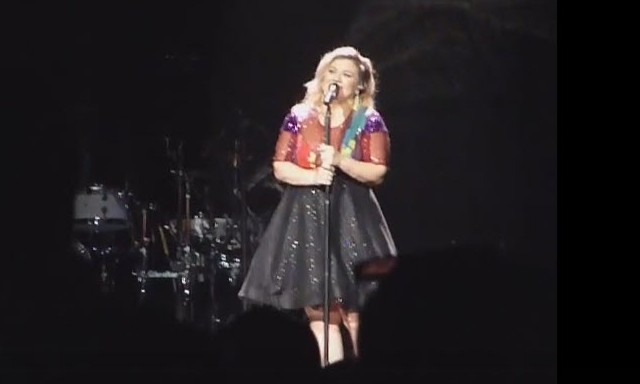 Kelly Clarkson has cancelled the rest of her Piece by Piece tour dates, due to continuing vocal issues. Kelly initially cancelled a handful of dates, with plans to start up the tour again on October 1 in Canada.
Kelly kicked off her tour on July 11 in Hershey Park, PA with Pentatonix as the opening act.  They toured pretty much non-stop until her last date, September 10 in Atlanta.
The singer announced to the crowd at the Staples Center in Los Angeles that she was pregnant with her second child. She had some health issues with her first pregnancy in 2014. Being pregnant on top of vocal issues can't make the situation any easier.
Here's the message left on Kelly's official website:
Regretfully, due to instruction of her doctor, Kelly Clarkson must remain on vocal rest for the remainder of the year resulting in the cancellation of her scheduled tour dates in Canada and the UK. All tickets will be refunded at the original point of purchase.

"I am truly sorry that I have to cancel the remainder of my tour dates. I was so looking forward to sharing this tour with all my amazing fans in Canada and the UK. Unfortunately my doctor is telling me I have to stay on vocal rest, but I am working hard to get better as fast as possible."

Canceled dates are as follows:

Canada

September 30th – Ottawa, ON
October 1st – Ottawa, ON
October 2nd – Montreal, QC
October 4th – London, ON
October 7th – Winnipeg, MB
October 10th – Saskatoon, SK
October 12th – Calgary, AB
October 14th – Edmonton, AB
October 15th – Dawson Creek, BC
October 17th – Vancouver, BC

UK

November 10th – Dublin, Ireland
November 12th – Glasgow, UK
November 14th – Birmingham, UK
November 16th – Leeds, UK
November 18th – Manchester, UK
November 20th – Wembley, UK
Hopefully the issues aren't serious, and she'll be back to form after plenty of vocal rest. Get well soon, Kelly!