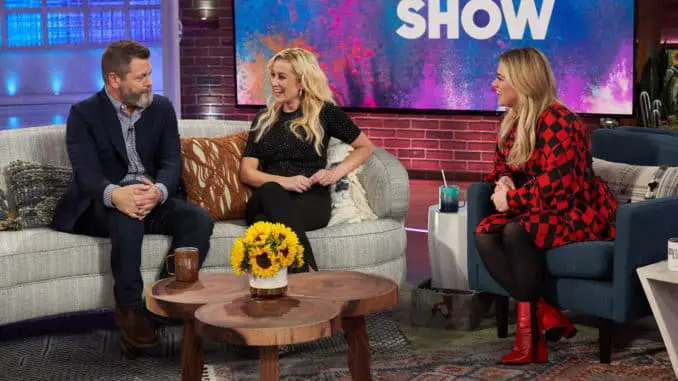 American Idol reunion! Sort of. Season 6 alum Kellie Pickler was a guest on The Kelly Clarkson show Monday (Dec 2) to promote her upcoming Hallmark Christmas movie.
Of course, Kellie and KELLY swapped stories about their time on the iconic singing show. Kelly Clarkson was the OG American Idol winner, and when Kellie auditioned four years later, she sang Kelly's "Since U Been Gone" as one of her audition songs. Fellow guest, Parks and Rec star, Nick Offerman admitted that he and his wife, Megan Mullally from Will & Grace were big fans! 
Nick shared, "So I'm really feeling a little star-struck and insecure." Kelly joked, "The Kelly (ie) squared happening right now!"  Nick observed, "There's a lot of personality sitting here." 
Kelly noted the two had similarities: Both were bubbly American Idol contestants from the south. And she had "no idea until literally last night" that Kellie auditioned with one of Kelly's biggest hits. Kellie reminisced about her audition. "You know, there's so many different rounds before you even get to Paula [Abdul], Randy [Jackson] and Simon [Cowell], which we had the original three." Kellie sighs, "Time doesn't slow down for nobody, does it…"
"I actually auditioned with "The Sweetest Thing" by Juice Newton," Kellie explained. "I went through to the next round and then…[the produces said] sing that one again, I thought maybe 'this one will be good keep doing this one.'" But then the judges threw Kellie a curve ball, "I think it was Paula [who] asked me to sing…something pop. I just started singing your song! I was terrified."
Kelly confessed the song would not be "my go to for an audition. That's a hell of a song!" 
"You were the first thing that came to mind," said Kellie. After 20 seconds, the judges asked Kellie for a different song. "Then I sang 'Broken Wing' by Martina [McBride]. Kelly approved, "Oh good song!" she added, "They had me do the same thing."  In fact, said Kelly, they made her sing three songs. "Am I still proving I can sing on key here," Kelly said she thought at the time. 
"You're like a good luck charm for me," said Kellie, "It got me through to the next round."
"This is amazing backstage dish!" Nick exclaimed, adding, "We are spilling the tea today!"
Kellie and Kelly also shared similar stories about ditching big weddings. Kellie said her invite list felt like a "CMA after party." She and her husband, songwriter Kyle Jacobs, decided to "run away" and get married. The two wound up honeymooning in Baghdad during one of Kellie's USO tours (Kellie and Kyle married on January 1, 2011 on an island in the Caribbean). 
Kellie had more than American Idol and weddings on her mind. She is out promoting her new Hallmark Christmas movie, Mistletoe Secret. "I play a small-town girl from North Carolina. So it wasn't far of a stretch," Kellie explained, "I'm trying to save my little town and bring small businesses…back to life and and bring tourists there."  And it wouldn't be a Hallmark movie without romance. "There's a love interest that comes into play, and SO MUCH DRAMA because it's Hallmark, ya know." Kellie added, "It's a sweet little love story…a feel good movie."  She loves it. "They all have happy endings."
"So not like life!" Kelly joked. "I know right?" Kellie replied, laughing, "Oh is this the way Christmas is supposed to be?" Check out the interview below.