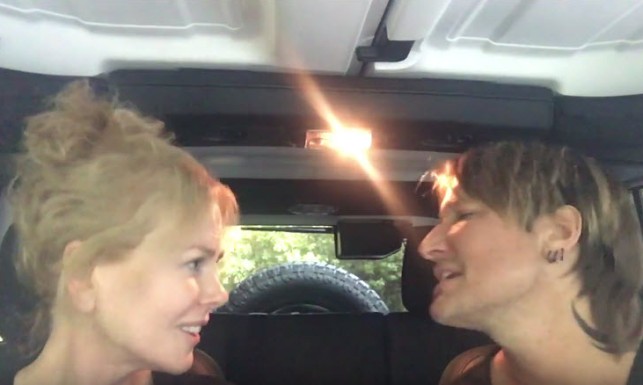 Could this be any cuter? Country crooner, Keith Urban and his actress wife Nicole Kidman are adorable as they lipsync Keith's duet with Carrie Underwood "The Fighter." It's the couple's very own version of Carpool Karaoke as they sit in the car and sing along to the radio. Keith woo's his wife, while she looks totally smitten. GET A ROOM GUYS! Ha. The tune is from the former American Idol judge's new album, Ripcord, out May 13.
But I have a question! Could this song be any less country? I mean, it's a bouncy pop tune that would have been right at home on radio a couple of decades ago. When I heard the American Idol season 4 winner would be duetting with Keith on a song from his next album, needless to say, this is NOT what I was expecting!
Nevertheless. Keith and Nicole. Still shipping them! "The Fighter" alternate Title: "Tom Cruise is a Dumbass (Thank God)."
Watch below for a few instant cavities. Seriously, too sweet.
Here's full audio of the studio version.