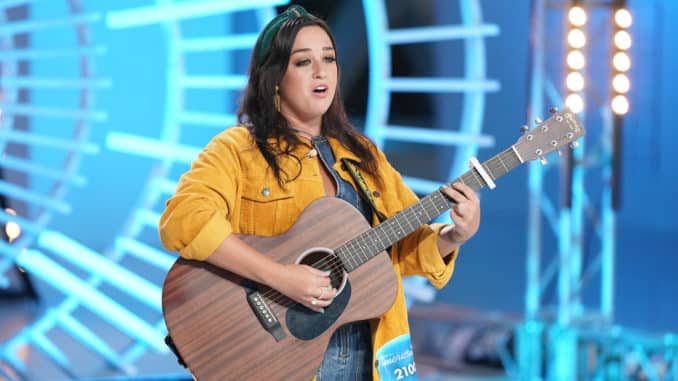 American Idol 2020 Hopeful Ren Patrick Covers Robyn's "Dancing on My Own" Shares Story of Breaking Free of Toxic Boyfriend
Twenty-six year old
Ren Patrick
spent eight years in an abusive relationship. After years of emotional abuse, the boyfriend went too far. Folks close to Ren finally convinced her to leave, which led to the singer leaving Los Angeles to move back to her hometown, Cypress, Texas.
Ren laments the lost years. Her toxic boyfriend separated her from family. To bring them closer together, Ren's mom suggested the two go on a road trip to audition for American Idol. Now, the singer is finally looking forward to a positive future.
At a Hollywood Party Years Before, Katy Perry Told Ren to Dump Her Boyfriend!
As fate would have it, judge Katy Perry actually helped Ren along the way. At one of her first Hollywood parties around 7 years ago, Ren was in the middle of a nasty argument with her boyfriend when Katy walked by, observed what was going on and said, "Ewww. Girl. Dump him!" The situation embarrassed Ren at the time. But she says, "It took me seven years, but I took your advice!"
After performing an emotional, heartfelt performance of Robyn's "Dancing on My Own," Katy remarks that for her, music is the best therapy. "She gets me through everything," says Katy. She assured Ren that she's not alone in this world. Luke Bryan calls Ren's ex a "bad dude" and is glad she's away from him. "You're an incredible singer," says Luke. "You're in our little space now, and I'm very excited about that." Lionel Richie's grandmother used to say, "The best form of revenge is success." He adds, "You've got an instrument, we're gonna see just how far that instrument will take you."
American Idol 2020 Auditions 4 Preview: Meet the Contestants! (PHOTOS)
Sophia Wackerman Auditions for American Idol Honors Late Mom (Video)
Katy believes Ren can be a positive role model for people watching right now, who are in similar circumstances. "A lot of people watching, their hearts have been broken. And they see you as somebody that they can look up to." Katy reminds Ren to thank her mother. Luke suggests bringing her mom, Meiling, into the audition room. As Katy hands mom the Golden Ticket she says, "You saw her go through all that. You believed in her, and helped pick her up."
Watch American Idol 2020 Hopeful Ren Patrick Cover Robyn's "Dancing on My Own."
https://youtu.be/tn-BhwPBAc0