On Sunday, September 4, American Idol celebrated the 20th anniversary of the show's first season finale. Twenty year old Kelly Clarkson won the show and became a superstar pop singer, television personality and talk show host. However, the artist who came in second place, Justin Guarini, also carved out a solid career in the ensuing years.
Recently, Justin posted a thoughtful remembrance of that day, writing, "A huge thank you to @americanidol, the many mentors and supporters I've known through the years," continuing, "And thank you to my family. My life and my career has been blessed by your prescience. Here's to the next 20 years of love, laughter, and lessons."
In an accompanying video, Justin shares, "20 years ago I got to be a part of a wonderful group of people who made television history." He continued, "And if I could go back and tell that 22 year old kid standing on a stage in front of 30 million viewers anything it would be this."
"You're going to have all the things that you think you want and so much more."
Justin shared some advice, "Don't worry so much. Your life is going to be amazing. You're going to have all the things that you think you want and so much more. You're going to be able to sing all over the world. You're going to be in television commercials. You're going to be on Broadway in seven shows. You're going to live the life of your dreams."
"I don't think he would have listened to me or believed me, but I know this much," Justin mused. "I'm so grateful for every single person that I met and worked with on American Idol. Every single person who voted for me every week. And I am so so grateful for the people in my life–the family, the friends who love me, accept me, and push me to go further."
He ends the heartfelt message saying, "I'm blessed, so blessed."
 

 

 

View this post on Instagram

 

 
Justin has starred on Broadway and in a viral television commercial
While Justin never became the huge pop star that Kelly did, he made his mark on stage, including Broadway productions such as Women of the Verge of a Nervous Breakdown, American Idiot, Romeo and Juliet, Wicked and In Transit. He also starred in various regional and New York City based theater productions.
Lately, however, Justin has made his mark as the hilarious spokesperson for the soft drink, Dr. Pepper, playing the goofy and fan-favorite character, Lil Sweet.
For her part, Kelly posted her own remembrance over the Labor Day weekend. While folks remember her shock and tears as she sobbed her way through "A Moment Like This," her winning moment is also marked by Justin's gracious reaction as he learned he DIDN'T win the show. At that point, he probably didn't expect to win, but it had to be a little disappointing, nevertheless.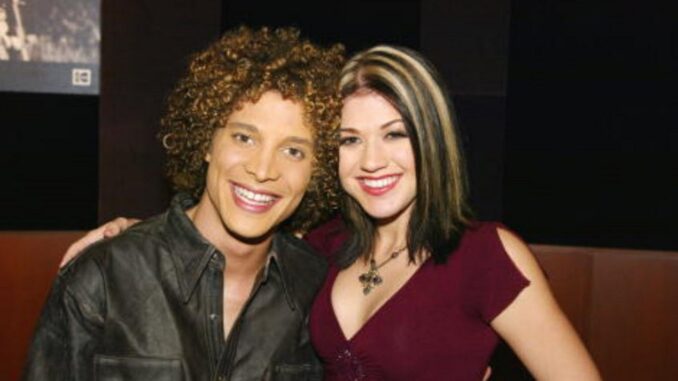 Most recently, Justin appeared on American Idol's 20th anniversary special, The Great Idol Reunion. He didn't sing, but he did play a funny bit with Ryan Seacrest wearing a frosted wig. He shared that he and his wife have "three beautiful children," and that later this year, he'll be back on Broadway.
Those early 21st century styles were really something, weren't they?