Credit @jbullerr13
Team Joshua Ledet: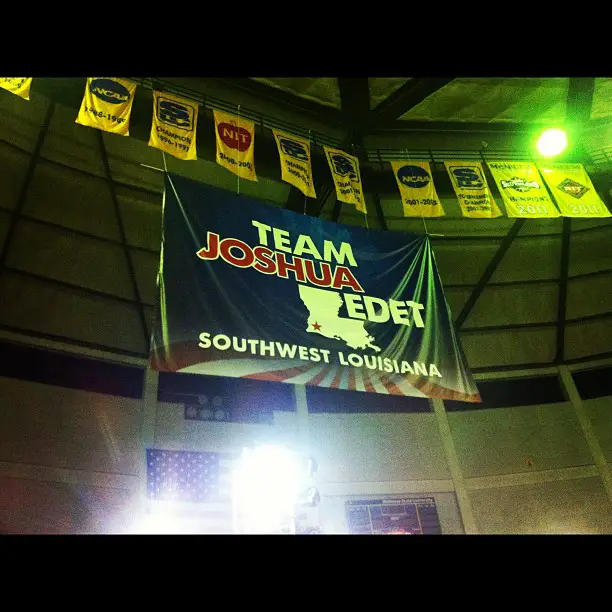 @amberg1028

@ashleywithers
@ashleywithers

@NatalieLStewart
Joshua Ledet arrived in Louisiana last night to begin his hometown visit. He told KPLC 7 that he hopes he doesn't sing himself hoarse at his concert later on today Also, Phil Phillips got off the jet the were sharing to sign autographs.
I'll be gathering media from the visit here, so watch this space.
It's A Mans World – Burton Coliseum
Joshua sang "When a Man Loves A Woman" at Westlake High School. Here's a photo of Josh with some cheerleaders. HERE.
FOX29 will be covering today's pep rally HERE
Radio station interviews: Josh on Fantasia, Joshua explains songchoice, Which Idol Would He Like to collaborate with, Family Nickname
Photos from Josh's parade HERE.
Joshua made a grand entrance at Burton Coliseum on a Mardi Gras float PHOTO
Joshua says "This is the Craziest day of my life!" Also asked the audience to give a big thank you to his parents.
Joshua sang "When A Man Loves a Woman", "To Love Somebody" and "Ready For Love", "I Believe" and "It's a Mans Mans Mans World"
 Lt. Gov. Jay Dardenne declared Joshua the "Official Louisiana Ambassador". Tomorrow is "Joshua Ledet Family Day"
An estimated 7,000-8,000 people lined the streets of Westlake Saturday to welcome home "American Idol" contestant Josh Ledet  Read more HERE.
Q&A With Joshua
Here is Joshua's schedule:
Saturday, May 12, 10:00 – 11:00am
Church celebration in Westlake, LA
Saturday, May 12, 12:00 – 1:00pm
Parade through Westlake, LA
Saturday, May 12, 6:30 – 8:00pm
Concert at Burton Coliseum
7001 Gulf Hwy
Lake Charles, LA 70607
Saturday, May 12, 9:00 – 9:30pm
Appearance at Contraband Festival in Lake Charles, LA