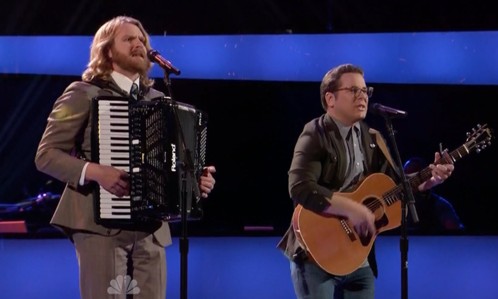 This is a milestone of sorts.  A former American Idol Top 10 finalist is now a member of Team Adam after auditioning on The Voice 4.
Jon Peter Lewis, half of  Midas Whale finished 8th in American Idol Season 3–a placement good enough to earn him a spot on the Idol summer tour where he shook his Polaroid while singing "Hey Now" (with Jennifer Hudson on backups!)  Jon Peter was the finalist Simon Cowell snarkily dubbed "The Pen Salesman" after the singer auditioned in church clothes.  And it was an audacious performance of "A Little Less Conversation" that earned him a fan voted wild card spot in the Top 12.
Memba?
There have been Idol alums on The Voice.  Season 8 Hollywood contestant, Jamar Rogers made the semi-finals in Season 3. Frenchie Davis, who made the American Idol semi-finals in Season 2, (before being disqualified after a naked photo scandal)  belted her way to The Voice 1 semi-finals. But  Jon Peter Lewis is the first American Idol Top 10 finalist to be chosen for a team on The Voice.
I'm not going to lie–I got pretty excited when all 4 coaches turned around for the Mumford-inspired duo, which also includes geologist, Ryan Hayes. The duo hail from Rexburg, a small Mormon college town. I have even been to Rexburg, people. Yes I have. #noshame.
I can honestly say that if it weren't for the JPL fandom, there would be no mjsbigblog. I also met some of the coolest chicks ever when I helped run one of his fan boards. Truth.
Check out Midas Whale's foot stomping performance below. It's tough for groups to survive the battle rounds, where things can get a little awkward. But hey, maybe Jon and Ryan will buck convention. (NOTE: No spoilers in this post please!)