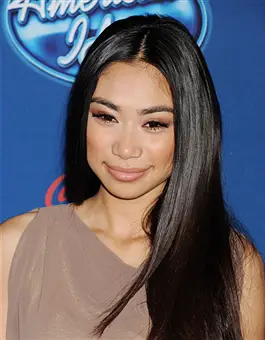 The fans of American Idol runner up, Jessica Sanchez, have been waiting patiently for her post-Idol album release, and it looks like the wait won't be much longer.
"I've been working on my album since the 'Idol' tour and I just finished it up," Jessica told MTV News at the American Idol premiere in Los Angeles last week.
The singer is preparing to drop her long-awaited debut single in February. She won't reveal the song title, but it is expected to feature a duet with singer/producer/songwriter extraordinaire, Ne-Yo.
Ne-Yo is joined by Toby Gad (One Direction, Kelly Clarkson), Harvey Mason Jr. (Britney Spears, Justin Timberlake) and Rykeyz (Wiz Khalifa, Fantasia) on the album, which is due in the spring.
"I wanted to make it perfect for the fans," Jessica says of the long wait (by Idol standards) to get the record out, "I've worked in the studio before, but going to that next level with such high producers? It was crazy … working with Ne-Yo. Everything was such a blur and I was just a fangirl the whole time."
"We wanted to develop her into an artist with longevity, and wanted her to put out a product that truly showcased her as the artist she wants to be and we wanted to take the time to make it perfect," Jason Morey, a 19 record exec, told MTV, "She is truly a world class singer and we wanted to put her with the biggest producers and writers in the business … She literally blew everyone away in the studio with her talent and as she began working, more opportunities arose for her to work with different people."
"It's me, soulful, but more dancey," Jessica said. "It's all completely me. And I'm excited about all of it." Even before she auditioned for American Idol, Jessica knew the kind of artist she wanted to be. Her goal was for the 17 completed tracks to sound  different from anything currently on the radio. "This is completely who I am and I'm excited to show it to everybody," she said.
Morely described the record as as an upbeat, mainstream pop disc with an R&B edge. He's confident that Jessica could land a rare Idol Top 40 hit.
The timing of the record release will also be co-ordinated with a huge gig–Jessica's upcoming 4 episode arc on Glee.  The singer reveals that co-creator, Ryan Murphy called her people just a few weeks after the American Idol finale to invite her to a meeting, which lead to being cast in a guest starring role. She's been taking acting classes and does not know exactly what role she will be playing.
On February 14, Jessica will be headlining a concert in the Philippines with Colton Dixon in front of 15, 000 fans. "There might be a sneak peek of some songs [from the album]," she said. "Some 'Idol' songs, some covers."
VIA MTV