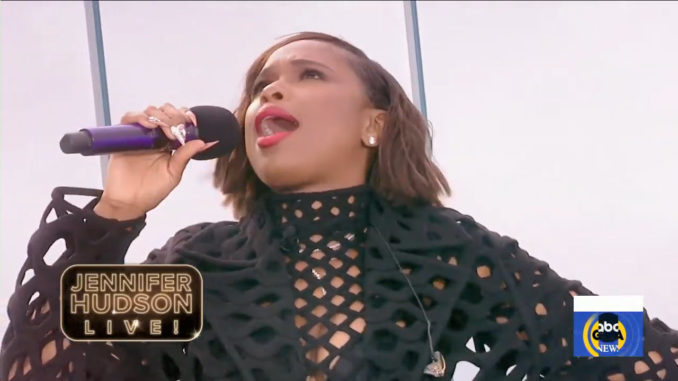 Jennifer Hudson joined GMA host Robin Roberts high atop a building in the NYC Hudson Yards to perform a medley of Aretha Franklin hits.
The American Idol season 3 alum stars as the Queen of Soul in the biopic Respect, which opens in theaters on August 13.
Part of Jennifer's preparation for the role involved learning to play the piano so she wouldn't have to fake it on film. That's where Jennifer started off when she kicked off the medley with Aretha's "Dr. Feelgood." It wasn't long before she was on her feet, performing the bluesy song.
See Jennifer Hudson on the 'Respect' Red Carpet (Photos)
Jennifer Hudson Chats With CBS Sunday Ahead of Aretha Biopic (Video)
Jennifer then finished the performance with a high energy version of Aretha's classic hit "Think." Yes, that's her fellow season 3 American Idol alum, George Huff, singing backups behind her.
That huge balcony off the skyscraper is not for the faint of heart. But it does provide a dramatic backdrop for Jennifer as she pays homage to Aretha's songs.