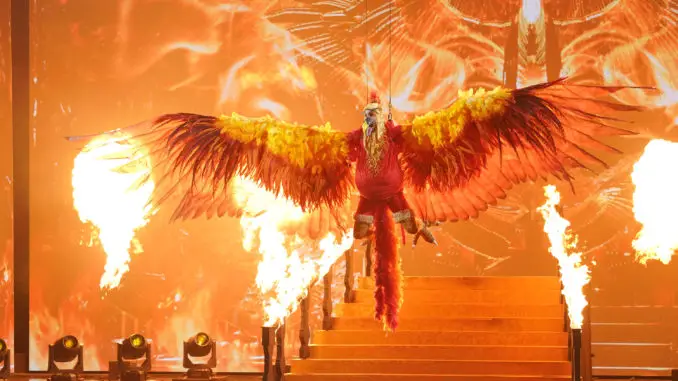 The America's Got Talent 2021 Live Shows kicked off at the Dolby Theater in Los Angeles with the first 12 acts of the Top 36 on Tuesday (Aug 10). The acts performed live for America's Got Talent judges Simon Cowell, Howie Mandel, Heidi Klum and Sofia Vergara and host Terry Crews.
The acts also performed for  America's Vote and a chance  to win a $1 million prize. Additionally, the winner will perform at the AGT residency at the Luxor in Las Vegas this fall. Only 7 acts will advance by the end of tomorrow night's (Aug 11) LIVE RESULTS.
America's Got Talent 2021: Live Shows Week 1 Preview (Video)
TO VOTE: Got to NBC.com/AGTVote and/or via the "AGT" App (available through Google Play and on the App Store). Limit is 10 votes per act per email per each voting method. How to Vote Voting Faqs
America's Got Talent 2021 Live Show 1 POLLS: VOTE for Your Favorites
OH LOOK IT'S A REAL AUDIENCE GOODBYE FAKES. The audience members are all masked, however. They are also vaxxed and tested. 
Canine Stars – Dog Act
This dog act impersonated the judges for their audition. It really tickled the panel. So why not bring the bit back? This time, the doggie judges are sitting at a Las Vegas gambling table. How did they get these bits of dialog? More dogs take the stage with an audience of fake/real dogs watching from a doggie audience. Ohh. The frisbie act is full of doggie mistakes. The bit ends with an impressive doggie high jump. "You deserve to be here," says Howie, "You stepped it up." Heidi says, "From dogs to divas. You guys were so amazing." Sofia calls the act "So much fun…I really love it." Like Howie, Simon  also believes the act stepped it up. "I always knew one day I would be replaced by a dog!" All the doggos are former rescues. "Rescue to rockstar!" a trainor brags.
Terry reminds fans about the streaming wildcard show featured only on Peacock. Streaming now!
Peter Rosalita – Kid singer
He's a 10 year old boy and he loves SINGING. "It makes my heart happy" he says. "I feel like a movie star." He sings Whitney Houston's "I Have Nothing" and the performance is very pageanty and imitative. Also, the young singer has pitch problems. I would have given the young classic rock singer Dylan Zangwill the slot instead, and Peter the wildcard.  Maybe in a few years, Peter's voice will develop character. American Idol's David Archuleta sang big imitative diva songs at 10 years of age too, but grew into an incredible singer. So, there's hope yet. Heidi calls him "amazing" and "dapper." She thinks he did Whitney proud. Sofia is still shocked by his big voice. She's impressed with how he commanded the stage. Simon calls him gutsy. "You're going to sail to the next round." Simon suggests that he pick something younger next time. He's correct. Oh. According to Howie the random butterfly confetti in the middle of the song was a technical mistake.
Beyond Belief Dance Company – Kid Dance Crew
The group of girls are led by Alyssa Edwards from RuPaul's Drag Race. The gals aren't great dancers, but their spirit is infectious. They didn't bring anything new this time, but still fun. Sofia call the act "spectacular." Simon call their talent "indisputable." He loves their personalities. "I think you've given yourself a shot to get into the finals." Hm. Howie calls them fierce and amazing. Heidi calls it "EVERYTHING." The girls are from Texas, and everything is bigger in Texas.
Madilyn Bailey – Youtube singer
She's from a small town in Wisconsin. At 16, she posted her first Youtube video. Her AGT audition song featured a song made of hateful youtube comments found on her clips. This week, she's singing her viral cover of "Titanium." It changed her life, she says. She accompanies herself on piano. She's a solid singer. But I wouldn't call her spectacular. I think it's her fast vibrato that's throwing me off. Simon calls it "absolutely brilliant." He's being so positive so far. "That sounded like a record," he added. Howie thinks her quirky audition stood out more. He has a point. Heidi agrees with Howie. They are both right. The performance came off as another karaoke Youtube cover. 
Kabir Singh – Comic
Kabir's beloved mom stars in his video package. When his father died, he took care of her. She laughs at all his jokes at her expense. She has a good sense of humor! Mom just learned to text message. Ah yes. The old person who is bad at technology! These aren't hilarious jokes, but there is something really likeable about Kabir. His audition was funnier, I think Howie calls him authentic and loveable. "I and your mother are so proud of you." Heidi relates to his jokes, even though she's German.  Sofia had the best time. "You're getting better." Simon calls him likeable. Kabir shares that he's sacrificed everything to be a comic. 
Dustin Tavella – Magician
His audition mixed magic with sentimental backstory about his adopted son.  This week he works with cards. Howie is on stage helping. He reminds me a little of the football player from a few years ago, who did something similar. Tonight's theme is "life is messy." After Howie spread out some cards, a story book predicted the number of cards, etc. Actually, a deck could be tricked out to pull off all this magic. Oh gosh. He brings his kids on stage to help. And he definitely needs help, because this bit is pedestrian. He makes Heidi feel warm and fuzzy inside. Sofia calls him a "storyteller" and "you're in the right place." Simon likes that he tells stories. Simon thinks he has a "real shot at the finals."
1aChord – Vocal Group
They only met a few months ago. They arrange and sing pop hits in a gospel style. This time they perform REM's "Everybody Hurts." At first, I thought they were singing "Fix You" again. The arrangements are very similar. But once the song got going, it turned out to be pretty great. The harmonies are beautiful and they change up the melody so it fits their gospel style. It's a church-worthy arrangement. Sofia calls them a combo of rock stars and gospel singers. Simon calls it the best performance of the night. He calls the group "magic." Howie thinks they created a lane that will work for them. "I'm a Jew and I BELIEVE!" Heidi calls it "heavenly."
Gina Brillon – Comedian
Gina has done a bunch of TV already, including an Amazon video special that won an award. She's joking about the girls back in the Bronx who talk with Rosie Perez accents. The kids used to call her "pork chop" when she was young. Her style is very laid back and professional. Simon sensed nerves tonight, however. Heidi and Sofia disagree. So do I. Simon thinks her audition is funnier. Howie agrees with Heidi and Sofia. I think Simon is busing Sofia on purpose. You can argue that her audition was funnier, but she's NOT nervous. 
Gangstagrass – Hip Hop/Country group
The group comes from all over the country and represents different styles. They want to bring our fractured country together. Good luck with that. They begin harmonizing acapella in a old-timey style. And then the rapping kicks in. That was pretty corny, yo. "This is what America needs," says Howie. But he didn't like the music, calling it "underwhelming." I agree. Heidi calls it "a lot of fun" and Howie "grumpy." Sofia calls them energetic and unique. "I don't care what Howie says." Simon compares Gangstagrass unfavorably to 1achord. "The song wasn't good enough." I agree AGAIN. 
Sethward – Joke act
Sethward auditioned for AGT performing ridiculous animal schtick four years in a row, until he finally made it. "I think I could win this thing." Sure. Oh. It's an NBC branded bit this week. Sethward is a peacock. His feather span is HUGE. He's buzzed immediately. That's part of the gag. He sheds his feathers and, like last time, decides to fly. Pyro goes off as he stumbles down the steps. The fire guys hose him off, and Sethward rises, into the air, in a different costume. He's transformed into a Phoenix. The bit is more chaotic than funny. We need a Vote for the Worst like campaign, urging people to vote for him, until he makes it to the finals. That would be funny. Howie is amazed how he can make "nothing out of so much." Heidi laughed, but she was confused. "It was absolutely bloody awful," says Simon. "We can now officially call the show, America does not have talent."
Matt Johnson – Escape artist
"I don't do this because I want to die," he says of his dangerous stunts. "I do it because I want to live." Also "If I don't make it, you're going to carry me off in a body bag." Matt promises that tonight, he'll be on death's door. If the stunt goes wrong, a chain saw will impale his brain. Yay. You know there is a safety mechanism built into the trick. But the close call is nerve-wracking and very dramatic. Simon thought his grunting was "over the top." Sofia calls it "horrific." Howie says, "Thank God you failed in killing yourself." Heidi does not feel "warm and fuzzy inside." She didn't like that.
Jimmie Herrod – Singer
Sofia Vergara Golden Buzzer – Sofia is excited for her Golden Buzzer act. "He gave me goosebumps," she gushed. Jimmie shares that he felt self-conscious about his high voice, but he learned to embrace it. He sings "Pure Imagination" from Charlie and the Chocolate Factory. He starts off acapella. His tone is very pretty. If he lasts, he should sing "Defying Gravity" from Wicked. He reminds me a little of Chris Colfer from Glee. But Jimmie has really honed a style. He can also belt on top of that lovely falsetto. I'm also getting Sam Harris vibes. "You look like a movie star!" gushes Sofia. "That was spectacular." Simon calls Jimmie unforgettable and thinks he's headed straight to Broadway. But unlike years ago, it's not a diss. Heidi says "bravo." Howie thinks Jimmie is the singer to beat this season.