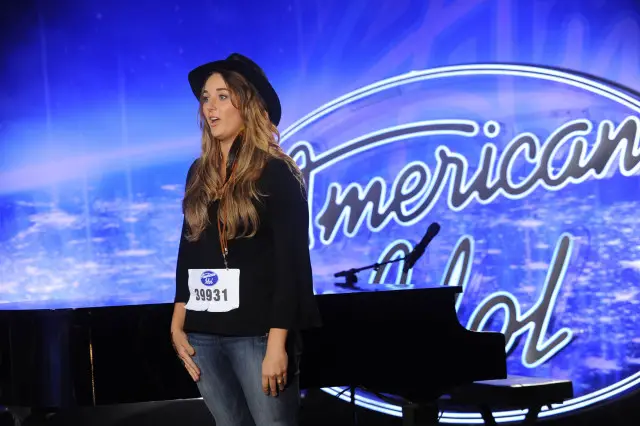 Jenna Renae American Idol 2016 Season 15 Contestant
Jenna Renae Ryckman
is a 23-year-old singer-songwriter and pianist from Williamson, New York, who says on her Instagram page that she is "living with my heart and eyes wide open." According to her website, Jenna was raised in a town where "life stayed simple," and started writing and performing her original music when she was 15. Since then, Jenna created an album, titled "Wishing," which she says is about her journey with love. According to Jenna "my heart and soul were poured into every word I wrote" and that "it echoes the idea that even in our darkest times, we can still find a star of hope and wish for our own happy ending." Aside from her original music, Jenna also enjoys covering songs for Youtube and putting her own twists on classic songs. Additionally, Jenna is married to Brent Ryckman.
Last year Jenna was featured on the tenth season of America's Got Talent. Although her audition was not shown, Jenna advanced to the top 80, where she sang "Can't Help Falling In Love," by Elvis. In addition to the traditional judges, Michael Buble was a guest judge for the episode. He reacted Jenna's performance by commenting that he was impressed by her unique version of the classic song. However, Jenna was not selected as one of the 7 to advance to the live shows and thus her run on America's Got Talent was cut short.
Over this past summer Jenna auditioned for the farewell season of American Idol. Singing "She Don't Love You," by Eric Paslay, Harry Connick Jr. called her "soulful" and said she gave "a terrific performance." Earning her Golden Ticket, Jenna survived Hollywood Week and advanced to the Showcase Round, where she sang "Flat On The Floor," by Carrie Underwood. Giving a strong enough performance, Jenna was then admitted into the top 24.
Instruments Jenna Plays: Piano
Links:
Overall Thoughts: Of all the girls this season, along with Emily and Amelia, Jenna is in my top 3 personal favorites. Following her work since she was on America's Got Talent singing "Can't Help Falling In Love," there was just something so special about this girl that I couldn't help being intrigued. When I found her tweet saying she was going to be on Idol I was positively ecstatic, and when I found out she made the top 24 I got flashbacks to JAX from last season. I am beyond excited to see where this Idol journey takes her.
When it comes to her Idol run, my advice is the same I gave to JAX last season: keep using the piano and unique ways of arranging songs as your secret weapon. On her Youtube page Jenna has phenomenal covers of songs like "Thinking Out Loud" and "Wherever You Will Go" and I would love to see that creativity brought to the Idol stage. The only other thing I can say for the future is to never let unhelpful criticism bother you. There are always going to be people with a different perspective, but never letting them change who you are is the real test of the idol journey. Best of luck to you, Jenna. You made a fan of me.
Song Suggestions:
Gravity, by Sara Bareilles
Roses and Violets, by Alexander Jean
Believe, by Cher (slow, piano cover)
.     .     .
And with that, my job here is done! This is my second year writing up these biographies and I have to admit, it makes me a little sad to know that this is it. It's really happening… Idol is actually ending. Anyway, if you stuck with these biographies this season thanks so much for reading my work. I'll be back later this season for song suggestion articles. Until then, stay awesome!
Jenna Renae sang "She Don't Love You," by Eric Paslay at her Atlanta audition. Click to check out her FULL AUDITION
More American Idol Performances:
Showcase Round – Flat on the Floor by Carrie Underwood – Click to Watch VIDEO