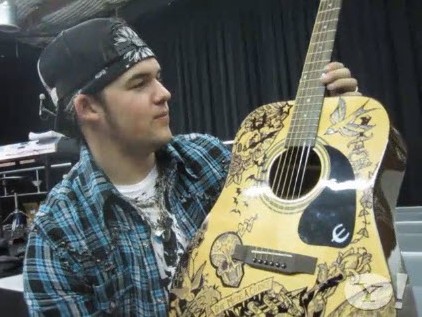 When Lyndsey Parker interviewed American Idol 10 contestant, James Durbin, during Idol Press Day a couple of weeks ago. He began with a very juicy Idol tidbit.
Read more HERE.
James asked to do "Kick Start My Heart" by Motley Crue or "18 and Life" by Skid Row for  last season's "Year You Were Born" week.  The producers told him the songs didn't clear, but he found out later that they did–TPTB just didn't want him to do them.
According to James, both The  Snake and Sebastian Bach confirmed the Skid Row song cleared.   James  wound up singing "I'll Be There For You" by Bon Jovi instead.  He said it was his least favorite week of the competition.   James annoyance with the situation is palpable as he talks about it.
On the upcoming tour, James will sing  two songs, and hints that at least one will be heavy metal. One of the tunes is from the show, the other he got to pick.  The show is on a budget, says James, but it will  feature 6 giant floor to ceiling LCD screens. But, alas, there will be no pyro.
As far as future plans, James says he's writing with members of Sixx A.M. and Marti Frederiksen (Aerosmith, David Cook, Carrie Underwood, Daughtry), He has one song finished he did with DJ (Sixx A.M.). "Great power ballad, " says James. He was also in the process of finishing up a second song.  He's finding out, as he navigates the post-Idol world, that "It's tough out there for a rock artist."
Somehow, James thinks Daughtry has escaped the American Idol bubble, but others like Kelly Clarkson, Adam Lambert and Kris Allen have not…
Part 1
Part 2