X Factor 2 alums, Fifth Harmony, will appear as a "powerful girl group" on the second episode of MTV's Faking it, which stars American Idol season 9 alum, Katie Stevens. Via MTV.
Ex-"Idol" finalist finds home in Christian music world – "There have been several 'Idol' contestants who tried out the Christian thing; some worked, some didn't, so I would've been skeptical, too. But we tried to show any way we could that I was legit and I wanted to be there, and now I think the industry knows that." "I grew up with Christian music," Dixon explains. "To me it's about the message. It's about giving people hope. That's one of the biggest rewards to me. You turn on Top 50 radio and you hear a … load of different topics. It's cool when I see people of my generation and younger choosing Christian music over some of that stuff. I'm not saying all mainstream or secular music is bad, but (Christian music) offers a more positive message." – Read more at The Morning Sun
'X-Factor' Contestant Lyric Da Queen Gets Life-Changing Eye Surgery – Fans of the X-Factor may remember Lyric DaQueen. Well she recently had a life-changing eye surgery, and reporter Sandra Endo is in Beverly Hills this morning with her story. Lyric was diagnosed in 2008 with Keratoconous, a degenerative eye disease that makes her vision very blurry. Then while performing in 2012, she was accidentally hit in the left eye–she has many problems and surgeries since then. This morning, she is seeing clearly for the first time in years after a life-changing surgery. – Read more at MyFoxLA
R&B singer, 'American Idol' contestant kicks off Clayton Center season – After Friday night's performance at the Clayton Center for the Arts on the Maryville College campus, you're going to know him a whole lot better. "The show is really about a journey through my life and my journey through 'Idol,' which was a huge turning point in my career," Lynche told The Daily Times recently. "But it's also about my journey through music and the influences that have made an impact on me — Donnie Hathaway, Al Green, Luther Vandross. There's a lot of storytelling about the reason I'm singing a song, or why it means something to me. "There's even some Shania Twain and Elvis thrown in there, two of the big songs I did while I was on 'American Idol.' – Read more at The Daily Times
Jasmine Murray Miss America Rehearsals
American Idol season 8 alum, Jasmine Murray, will compete in the Miss America pageant on Monday, as Miss Mississippi. Here, she instagrams a preview of her swimsuit for the competition.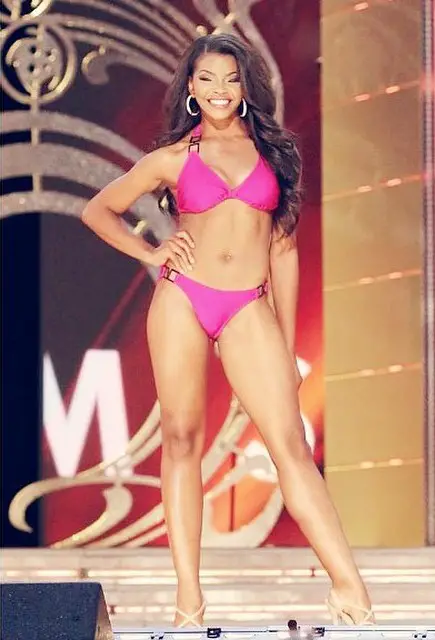 'Big Brother' host Julie Chen on who was helped and hurt by the Rewind button – Whose game did the Rewind help and hurt the most? I would guess Victoria and Frankie. The rewind hurt Frankie the most. He now could get evicted next. It didn't really help Victoria but it did buy her some time. It probably helped Derrick the most cause now his biggest competitor for winning the whole thing, aka Frankie, is no longer safe this week and could get bounced. If he doesn't win HOH or veto then he will most likely be sitting with me on Tuesday. – Read more at Inside TV