HAPPY CANADA DAY!
The auditions continue on America's Got Talent tonight on NBC 8/7c pm. Join Eric A. as he live blogs.
Lee DeWyze thrilled to play suburban shows for local fans – That's why coming home to play a pair of festivals has the 2010 "American Idol" winner in high spirits. "I can't wait," DeWyze says. "I really love taking my songs out of the studio, it's a kind of musical release for me. And then to be able to play them in front of friends and family, that's really going to be cool." In addition to playing Aurora's RiverEdge Park Saturday, July 5, and Lake in the Hills Rockin' Ribfest Friday, July 11, DeWyze plans on spending about a week and half in town "just catching up and seeing what everyone has been up to." – Read more at Daily Herald
Carrie Underwood Talks Live TV, 'Sunday Night Football,' New Album: 'It Feels Different' – "This year, they were going for a roaming party-concert — lots of lights and they wanted it to feel really high energy," she explained. And though the song will be the same, this latest version is a bit fresher. "I got to go back into the studio and make a few tweaks," says Underwood, who taped the opening performance on June 25 in Los Angeles. In addition to prepping America for TV's most popular show, Underwood will be opening this year's Super Bowl. Gaudelli explains the Super Bowl XLIX kick off video will feature "high end digital graphics, the Lombardi trophy replicated larger than life, and the traditional Super Bowl roman numerals taking various shapes across the screen." As far as what's next, Underwood tells THR that she'll soon be heading into the studio to work on her new album. "I've been writing a lot; It feels really good," she says. The American Idol season-four winner deems her latest endeavor as "a new version" of herself. As Underwood explains: "It's just a progression, a different sound without losing myself in it. I'm not taking some crazy musical departure from what I've done but it definitely feels different. It will feel different, look different, sound different." – Read more at The Hollywood Reporter
Carrie Underwood Had 11 Pages of "Somethin' Bad" – Trey Fanjoy, the director behind the mock movie trailer, said that her original idea was to take those stereotypical male roles in film and spin that on its head. "We wanted to have Miranda and Carrie take on those iconic moments, instead of George Clooney and Brad Pitt, like in Ocean's Eleven," Fanjoy told me. "But then Carrie had all these amazing ideas. She wrote her own treatment, and it was the first time she'd done that. Her initial treatment — with photos — was 11 pages of ideas. And my job as a director was just to interpret and filter those ideas to fit it in the 2:49 minutes we had. Carrie had so much great imagery for me to look at. She threw her whole heart into this." From the start, Underwood knew exactly what she wanted to see in this video. "She wanted to see a high-stakes poker game," Fanjoy said. "She wanted to see motorcycles. She wanted an explosion, a helicopter scene and a mug shot. Those all came from Carrie." – Read more at CMT
VIDEO: Taylor Hicks on performing, plans – Past "American Idol" champ Taylor Hicks performed at a charity concert this week at the Ritz-Carlton Lodge, Reynolds Plantation in Greensboro. "I am super excited," Hicks said during a phone interview ahead of time. "Whenever children are involved and you know your job is to raise awareness and raise funds, that makes it even more sweet. You just hope that ultimately their lives will be affected for the good." – See the Video at Access Atlanta
Kelly Clarkson Has a Realization!
I still can't believe I made a human. #topthat #firstglassofwineintenmonths #pump&dump :)

— Kelly Clarkson (@kelly_clarkson) July 1, 2014
Fifth Harmony – Bo$$ Single Cover
The next single, "Bo$$," from Fifth Harmony comes out July 7th. Check out the cover art.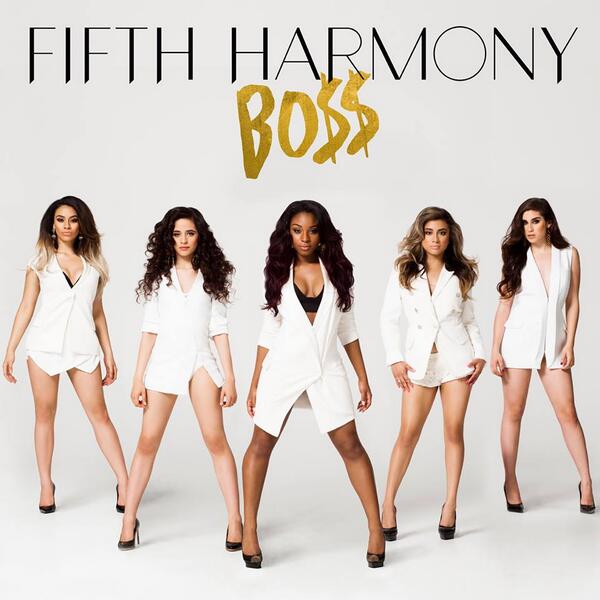 'Rising Star': Kesha on Not Swearing on Live TV or 'Shitting on People's Dreams' – "It's difficult for me to say 'no' — as you've probably noticed, I say 'yes' a lot, but it's because I see young people with a dream, the same dream that I had six years ago. I don't want to shit all over their dreams!" she explained. "I really see that people are really nervous. That is an incredibly nerve-racking thing to stand behind a wall with a camera in your face and millions of Americans watching and voting on you — that is a terrifying situation to be in, and it really makes or breaks the performer." – Read more at The Hollywood Reporter
'Rising Star': Josh Groban Talks Hosting, Mentoring and Yelling Backstage – "I've grown kind of attached to them, just as people," Groban told The Hollywood Reporter after Sunday's episode, the second of the season. "My job is to try and find that thing that makes them unique. You can always talk about pitch and breath control, but really, I try to exterminate the things that I think are their weaknesses, and get them to really shine on the things that are great." Of watching them audition live, he explained, "When they get out there, and the nerves kick in, you don't know if they'll do it, but it's always great when they do. … The most difficult thing for me is watching that vote go up — my mic's not on, but I'm screaming backstage: 'Come on!' " – Read more at The Hollywood Reporter
Julianne Hough Explains Failed Ryan Seacrest Romance, Talks Boyfriend Brooks Laich – "Every relationship, there was nothing wrong or bad, but there was nothing right," she said of her previous romances. "I had one foot out because I didn't want to get hurt. And I didn't say what was on my mind because I didn't want to ruffle any feathers. I needed to be perfect." "Now I'm not holding anything back, because I'd rather get my heart broken than never know what it is to be completely, madly in love," Hough added. "If I had been this open in my last relationship, who knows?" – Read more at US Magazine