Tonight, The Voice Knockout Rounds continue with Taylor Swift at 8/7c PM NBC.
CBS Gives Full Season Orders to 'Scorpion', 'Madam Secretary', 'NCIS: New Orleans' & 'Stalker' – CBS has given full season orders to all four of its new dramas, including the #1 and #2 new series of the season, NCIS: NEW ORLEANS and SCORPION, Sunday's #1 scripted broadcast, MADAM SECRETARY, and the time period-winning suspense thriller STALKER. These pick-ups include three of the top four new shows launched on television this season, and three series that rank among the top 15 of ALL prime time programs. – via TVByTheNumbers
Alfonso Ribeiro Announces Wife Angela Unkrich is Expecting Their Second Child – Alfonso Ribeiro announced after his performance on Dancing With the Stars on Monday, Oct. 27, that his wife Angela Unkrich is expecting their second child. "My son, it's his first birthday today, so I'm so happy that he's here with me. And as a wonderful present, my wife and I decided to get him a little brother or sister," the Fresh Prince of Bel-Air alum shared. "We're having a baby! I wanted to announce it here on the show because I just wanted to say thank you to all the fans and say I love my wife." – Read more at US Magazine
Jennifer Hudson Joins Music Lineup of "The Concert for Valor," To Be Presented Live on the National Mall in Washington, D.C., Tuesday, Nov. 11 – Jennifer Hudson has joined the music lineup of THE CONCERT FOR VALOR, the free concert to honor the courage and sacrifice of America's veterans and their families. To be hosted by HBO, Starbucks Coffee Company and Chase, THE CONCERT FOR VALOR will be presented live from the National Mall in Washington, D.C., on HBO this Veterans Day, TUESDAY, NOV. 11 (7:00 p.m. ET/4:00 p.m. PT). Hudson joins a previously confirmed live music lineup that includes The Black Keys, Eminem, Dave Grohl, Jessie J, Metallica, Rihanna, Bruce Springsteen, Carrie Underwood and Zac Brown Band. Read more at The Futon Critic
Justin Matthew Sargent Steps In For Injured Constantine Maroulis in Broadway's Rock of Ages – Here he goes again! Rock of Ages alum Justin Matthew Sargent is reprising the role of Drew in place of an injured Constantine Maroulis in the Broadway production. Sargent will perform in the show from October 28 through November 9. Sargent briefly returned to Rock of Ages earlier this year while Aaron C. Finley was out due to illness. His other Broadway credits include Spider-Man, Turn Off the Dark and Bonnie and Clyde. – Read more at Broadway.com
Oklahoma State University Marching Band Pays Tribute to Carrie Underwood [Watch] – Okie Carrie Underwood got some big love from her home state when the Oklahoma State University marching band performed a double feature of two of her hits during Saturday's (Oct. 25) homecoming game against West Virginia University. The band took the field during halftime to put on one heck of a show, delivering Underwood's 'Cowboy Cassanova' and 'Before He Cheats' for a packed stadium. The announcer even gushed beforehand that the 'American Idol' hitmaker is "one of America's greatest singers" before the band led into 'Cowboy Cassanova,' during which they created the shape of a cowboy hat on the field. The made their last formation before starting the second song, shuffling around the field to eventually create a big — literally — shoutout to the singer. The band spelled out "C. Underwood" on the field before "We Are Cowboys," an outline of Oklahoma and the word "home." – Read more at Taste of Country
'It's One Of Our Favourite Places In The World To Play': Daughtry On UK Fans And Tour Life – As he hovered somewhere between Tokyo and Singapore, we caught up with Chris Daughtry, the band's lead singer, to talk life on the road, that London date and their relationship with their fans on this side of the pond. "Oh my gosh, it was incredible," he said. "I mean, that room was beautiful and the fans were, if it's possible, even better than the last time we were there. It's definitely become one of our favourite places in the world to play. The fans are just amazing. "It was the only date, this soon, in the UK that we were able to make happen. It was one of those things where you get an offer and it makes sense, and of course we were hoping that we would get a chance to come back sooner rather than later. We ended up coming back sooner than we anticipated so that was definitely good news for us. A sold out show is definitely something we never take for granted." – Read more at Stereoboard
Andre Soriano Aristocrat Collection 2015 debuts at Style Fashion Week – The show closed with surprise guest Jessica Sanchez from American Idol wearing a baby blue, stunning gown with a dramatic tail. Walking with her was actress Asia Monet Ray in an adorable matching elegant baby blue dress accompanied by Andre Soriano wearing an elegant all-white suit and hat ensemble, making his signature dramatic exit the way only Andre can!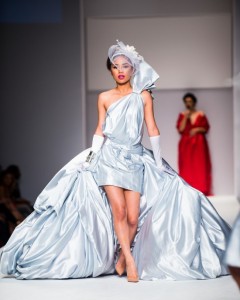 Read more at The Los Angeles Fashion.com