BRANTLEY GILBERT, ELLA HENDERSON, NICK JONAS, NICO & VINZ AND TRAIN JOIN NEW YEAR'S LINE UP WITH PERFORMANCES FROM BILLBOARD HOLLYWOOD PARTY – Los Angeles, CA (December 18, 2014) – Brantley Gilbert, Ella Henderson, Nick Jonas, Nico & Vinz and Train join the biggest music celebration of the year with special performances from the Billboard Hollywood Party on "Dick Clark's New Year's Rockin' Eve 2015." Fergie hosts the Billboard Hollywood Party and also performs along with previously announced performers Iggy Azalea, Bastille, Charli XCX, Jason Derulo, One Direction, Pentatonix, Rixton and Meghan Trainor. With over 38 performances and 5 ½ hours of music, programming for "Dick Clark's New Year's Rockin' Eve with Ryan Seacrest 2015" begins at 8:00 pm ET/PT on ABC Television Network. – Via dc productions press release
Richlyn Marketing Inks Deal with 'X Factor' Contestant – Richlyn Marketing's PR team has signed on to represent 14-year-old singer and former X Factor contestant Rion Paige. The singer is working with producer David Huff on her upcoming debut project, and is in the process of making the move to Nashville to pursue a recording career. The Jacksonville, Fla., native finished fifth on Season 3 of X Factor USA. She was mentored by Demi Lovato. – Read more at Music Row
How Coca-Cola's 'American Idol' Deal Transformed TV Advertising – The show "brought Coke to viewers young and old alike, as 'Idol' at the time had a younger-than-average median age for primetime and was one of the few shows that truly crossed generations," said Billie Gold, VP-director of buying and programming research, Carat. "Not only was Coke prominently displayed everywhere in the show, but it had top pop icons sitting behind their cups and promoting them, which was something Pepsi was known for." What made the deal stand apart was its breadth, said Jim Andrews, senior VP-content strategy at sponsorship consultancy IEG. Coke, he said, treated it almost like a major sports sponsorship. "It was more than just product placement," he said. "Over the years they used it as a promotional platform. So they were doing retail promotions around 'American Idol' like they would do around a sports sponsorship [like] the NFL or Olympics," he added. "It was a hybrid and it was one of the earlier and bigger ones." – Read more at Ad Age
It's a Brooke White Christmas at Yahoo Music! – Check out her performances of "California Christmas" and "Christmas Card" at Yahoo Music. Also there's the charity album she recorded with David Archuleta, which you can pre-order at Pledge Music. She's 78% to her goal.
Kellie Pickler & Dianna Agron – USO Tour
American Idol alum, Kellie Pickler, Glee star Dianna Agron and others accompanied General Martin Dempsey on his fourth and final annual USO holiday tour as the 18th Chairman of the Joint Chiefs of Staff. They performed in Afghanistan, Italy and more.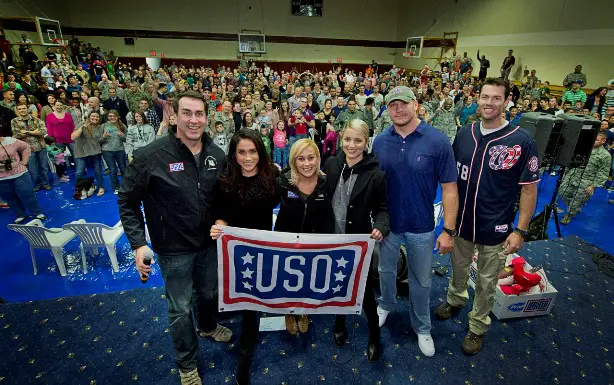 Kellie Pickler: I'm not ready to have kids – Could Carrie Underwood be starting a country baby boom? If so, Kellie Pickler won't be participating. The "Little Bit Gypsy" singer isn't just waiting to have kids — she flat out doesn't want them. "It's so exciting for Carrie," Pickler tells OK! Magazine, "but I don't want the responsibility of raising a human being." At 28, Pickler is three years younger than her fellow "American Idol" star, and the two have become friends over time. She says shes fine just being Aunt Kellie, leaving no room for doubt about the future of her and husband Kyle Jacob's household. – read more at FOX
How does Kelly Clarkson get big stars for her benefit? She calls her mother-in-law – "I called my mother-in-law first, because I figured if I could tie Reba in, people would say yes," says Clarkson, who'll host Miracle on Broadway at Nashville's Bridgestone Arena Saturday, raising money for four local charities. "She probably just said yes because she's my mother-in-law, and it would be awkward at Christmas if she was, like, 'Oh, I turned you down.'" One person who turned Clarkson down: Dolly Parton, but only because Clarkson didn't approach the country queen until last week, when she was practicing a version of Parton's Hard Country Christmas to sing at the concert. At her husband's suggestion she emailed Parton – and got turned down by fax. "I asked her eight days ago, so she has plans," Clarkson says. "The fax, I'm actually framing. – Read more at USA Today
Damien Lawson: 'The Voice' is just the beginning – "Right now we're working everything out, getting a team together for dates and bookings," Lawson said in an interview with The News-Star Thursday afternoon. "We're setting up meetings because this is what I want to do. 'The Voice' gave me the opportunity to propel me forward and I'm going to take advantage of this opportunity." When asked if a future performance at the Monroe Civic Center was in the works, Lawson said, "Of course. All they have to do is invite me." – Read more at The News Star
A lot's changed for Castro since 'American Idol' – QUESTION: Since you appeared on "Idol," you have become a husband and a father. How did that change you as a person and as an artist? ANSWER: I think getting married and having a child has made everything mean more and things have a deeper meaning now. I can feel more. Loving someone that you created is a very deep feeling that can't really be explained. I think it has made me more mature as well and more responsible. You always think you are mature and responsible because you are paying bills and that sort of thing, but this brings it to a whole other level. Before I was just "playing an adult," now I actually am one. – Read more at Florida Today