Chris Rock hosts tonight's Saturday Night Live. PRINCE is the musical guest!
IGGY AZALEA TO PERFORM AT THE 2014 AMERICAN MUSIC AWARDS® – Iggy Azalea, will perform at the American Music Awards, the world's biggest fan-voted award show. She joins a star-studded lineup of previously announced must-see performers including 5 Seconds of Summer, Charli XCX, Mary J. Blige, Fergie, Lorde, One Direction, Sam Smith and the evening's host, Pitbull. The 2014 American Music Awards will broadcast live from the NOKIA Theatre L.A. LIVE on SUNDAY, NOVEMBER 23rd (8:00-11:00 p.m. ET/PT) on ABC. Additional performers and presenters will be announced soon. – Via DCP Press Release
Clay Aiken Doesn't Sing Anymore – When Aiken discovered that Ellmers last won by 14 points after outspending her opponent 14 to 1 in a district where Republicans hold a 10-point advantage and where Obama lost by 16 points, he saw an opportunity. As soon as he announced his official candidacy, team Ellmers warned voters that Aiken was "a performer whose political views more closely resemble those of San Francisco than Sanford." Aiken laughs at the tactic. "Why not just cut to the chase and say 'He's a big ol' homo'?" he asks, slapping his palm on the steering wheel. Aiken admits if Ellmers weren't in office, he probably wouldn't be running. He says there are Republicans he admires, like John McCain and most members of his own family. His younger brother is a former Marine; his cousin owns a local shooting range. Aiken knows his "ain't a swing district by any stretch," and his odds, on the outside, appear needle thin.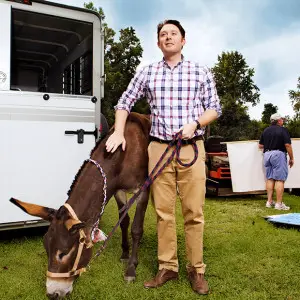 Read more at Esquire