The Voice 5 Battle Rounds continue! I'll be live blogging at 8/7c PM NBC. Join Franky for his Dancing with the Stars Live blog beginning at 8/7c PM ABC.
Paul Jolley Meet Friends at the W Hotel
American Idol 12 alum, Paul Jolley joined his friend, Nikki Leonti, for a song  at the W Hotel in Los Angeles last night. . American Idol, The Voice, and Glee alum, Luke Edgemon also performed.
Look who Paul ran into! He tweeted this photo: l-r Nash Overstreet (Chord's brother, member of Hot Chelle Rae), Luke Edgemon, Paul Jolley, Nikki Leonti and Adam Lambert.
Taylor Hicks performs National Anthem at Talledega Speedway
Taylor Hicks performed the NA before the race at the Talledega Speedway on Sunday.
Kree Harrison Photo Shoot Preview
A friend of Kree Harrison instagrammed a photo from a recent photo shoot.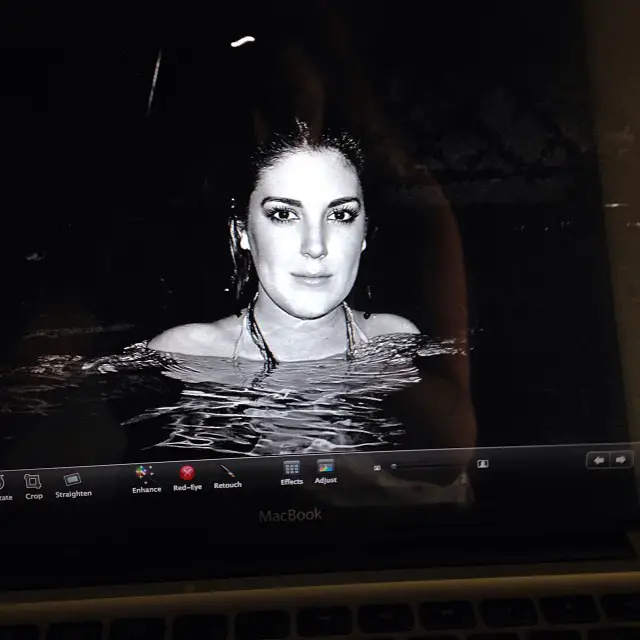 McCreery finds his voice on post-'Idol' album – NASHVILLE, Tenn. | Scotty McCreery rode his 2011 "American Idol" win to a platinum album and several new artist awards. With his second album, "See You Tonight," McCreery says his career is now in his hands alone. "We have been off the show for 2½ years," the 20-year-old said. "The wave pretty much has to be my wave now. We have to make our own momentum. That comes with success, with radio success, but you've also got to make the good music first, the good songs for that to happen." – Read more at Sioux City Journal
10 Weird Questions with Blake Lewis – 1. So what are you up to right now? I'm currently finishing up my 3rd album called Portrait Of A Chameleon. I only have two more weeks until it gets mixed and mastered. Getting very excited to finish this project. I'm also working on selling my beatbox sample library I created along with my album. I programmed a lot of my record with these fun samples of my voice. – Read more at CBSLocal
'Glee' stars coming to Modesto for 'One Night Only' show – MODESTO — Cast regulars of the hit series "Glee" are coming to Modesto for "One Night Only." The special event Feb.22 at the Gallo Center for the Arts will feature music and a chance for fans to meet actor-singers from the popular Fox TV musical show. Appearing will be Blake Jenner (who plays Ryder), Melissa Benoist (Marley) and Alex Newell (Unique). Also taking part will be Modesto native and Hollywood casting director Robert Ulrich, fellow Modesto native and "The Glee Project" runner-up Lindsay Pearce and past local Valley's Got Talent winners. – Read more at Modesto Bee
Strictly Come Dancing extends ratings lead over The X Factor – BBC1's Strictly Come Dancing extended its lead over its ITV rival The X Factor to nearly 2 million viewers after the Simon Cowell show shed a million viewers year on year. The celebrity dance show hosted by Bruce Forsyth and Tess Daly had 9.7 million viewers, a 43.9% share of the audience, between 6.30pm and 8.20pm on Saturday night. The second live studio round of The X Factor was watched by 7.8 million viewers, a 33.7% share, between 8pm and 10.05pm, down from 8.8 million at the same stage of the show last year. – Read more at The Guardian
Welcome to Cowell's humble abode! Simon's X Factor USA finalists pay a visit to his Beverly Hills mansion – Now that the Boot Camp and Judge's Houses stages of The X Factor USA was cut in favour of Four Chair Challenge, the contestants don't get a chance to hang out at their mentor's home. But that wasn't the case for Simon Cowell's four group finalists, who got to pay a visit to his Beverly Hills mansion ahead of the first Live Shows. Alex & Sierra, Restless Road, RoXxy Montana and Sweet Suspense all looked pretty excited when they rolled up to the luxurious pad on Sunday. – Read more at The Daily Mail
Will Maks return to 'Dancing With the Stars'? It's up to 'higher powers' – If that were to happen, Chmerkovskiy would be put in the same position Hough was in when she sat at the judges table — having to dole out criticism and score a sibling pro. For Hough, it was brother Derek (who's partnered with Amber Riley). For Chmerkovskiy, it would be brother Valentin (who's dancing alongside Elizabeth Berkley). The question is, would he be up for the unbiased job? "Absolutely," the older Chmerkovskiy responds. "Because I wouldn't be judging my brother — I'd be judging the celebrities and what they are showing us." – Read more at Today.com